After a long break, foreign students are returning to Finland. HAMK Library wants to welcome both our returning and new students by presenting a small selection of titles to help combat the culture shock. We hope these may prove useful, or at least entertaining, when you start getting to terms with the Finnish culture.
For more books on Finnish culture and society, see HAMK library favourites.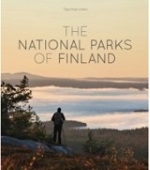 Karvinen, T. & Hicks, M. (2017). The national parks of Finland. Docendo.
Finland is probably best known for its nature. As a student of HAMK, you have the luxury of Häme region and its seven national parks. In this stunning book, Tea Karvinen records her own visits to Finnish national parks. As a professional photographer, she is perfectly placed to highlight the stories and features of each park. A word of caution, though: this book may cause an overwhelming desire to visit all the forty parks.
For sample pages and a multimedia presentation of the Finnish national parks, see Tea Karvinen's homepage.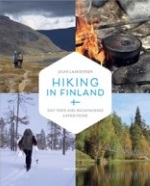 Laaksonen, J. & Hicks, M. (2019). Hiking in Finland: Day trips and backpacking expeditions. Karttakeskus.
Before visiting our national parks – or any parks, woods or forests – you might want to get familiar with the dos and don'ts of Finnish hiking culture. We have this wonderful thing called Everyman's rights, but even these are not all inclusive. For more information on hiking, with suggested trails and tips for winter hiking, see this great book.
For a more extensive book review, see Alex Roddie for the Great Outdoors.

Harju, C. & Söderström, H. (2016). Sauna – the way of Finnish life. Kirjakaari.
Sauna is another Finnish concept you will not be able to escape. This book provides you with a polished and sanitized introduction to the modern sauna culture. For modesty's sake, people have been photographed wearing towels or swimming suits. Neither belong to the genuine experience. Despite the strong marketing view, the pictures will hopefully manage to portray some of the things we Finns commonly associate with sauna: peace and tranquility, reflection and general well-being, but also social bonding, family and friends.
You can browse the electronic version on Issuu.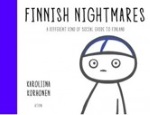 Korhonen, K. (2016). Finnish nightmares: A different kind of social guide to Finland. Atena.
Meet Matti, a stereotypical Finn, who will act as your guide to social life – the Finnish way. Matti loves peace and quiet, he does not do small talk, and personal space is almost sacred to him (he must love COVID!). These comics of his struggle with daily life will hopefully help you better understand the Finnish mentality and regard it with patient tolerance.
For a small taste of Matti's life, see his blog.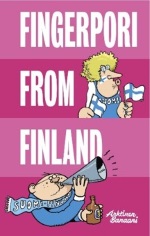 Jarla, P. & Kataisto, V. (2014). Fingerpori from Finland. Arktinen Banaani.
Pertti Jarlas comic strip on the life of a small imaginary Finnish town is the weirdest possible introduction to Finnish life. Jarlas humour is not for the faint-hearted: it is quite heavy and sometimes downright obscene. Yet it can be rewarding, and certainly it is always funny (if you go for this type of humour).
For a small taste, see Expat Finland.
Thank you for the image: Andrea Piacquadio @ Pexels