Henrique Hilleshein is already our eighth exchange student from Federal Institute of Santa Catarina (IFSC), Brazil. He has spent the last three months in Finland. Luckily, these dark and rainy months didn't spook him away and he is already planning his return to Finland next year!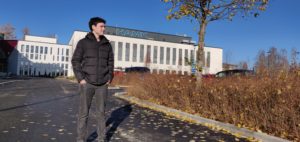 Tell us something about yourself and how did you end up studying in Finland?
I am a telecommunications engineering student at Federal Institute of Santa Catarina. From the beginning of my studies, I dreamed about doing an exchange program abroad but I never had a specific country in mind. My university has a bilateral exchange programme with several European universities, and HAMK is one of them. These universities inform IFSC the projects they have available for the exchange students and IFSC relay the information about the projects to the students. The students interested in the program need to choose the project that they want to take part of. The project description I liked the most was this HAMK project, so that's why I ended up doing my internship at HAMK. The other reason that helped to make this decision was the praised Finnish education system.
What was the project about?
I worked on an IoT platform assessment for educational purposes at the HAMK Smart research unit. My responsibility was to verify the viability of using a proprietary IoT platform to be used as a tool to teach IoT (Internet of Things) to HAMK students. Technology is evolving rapidly and many technologies make people more efficient and provide a more comfortable life. In the next years, IoT will be more present in our lives, so studies and tools for the best use of IoT need to be developed. The IoT concept affects everywhere – from everyday life to the big industries.
What were the biggest differences between studying and working in Finland compared to Brazil?
In Brazil, I have never worked in a research unit or for a university. Previously I've just worked in private companies, so it is difficult to compare. In Brazil, normally the supervisor keeps a close watch on the employee, but here I notice that the result matters more than the process itself.
What do you feel was the best thing during your internship?
For me, it was the change of scenery. I met a lot of people from Finland and other countries in Hämeenlinna and it was an amazing experience. People are not lying when they say that an experience abroad can open your mind about the world and people.
What does the future have in store for you?
I'm planning a return to Finland next year. I received a job proposal together with a master's degree studies at Oulu University. I've already started the visa process and I hope that everything goes fine. I hope that the time I have here during my master, I will get to know Finland better and will also get the chance to visit other European countries.
What is your best advice for the future international trainees?
I would say just enjoy Finland, try to meet as many new people as possible and travel as much as you can. Even though I worked hard, I also had a lot of spare time to experience new things, so it is a good thing for an international trainee to be curious and embrace the opportunities.
What do think about living in Finland?
First, the weather is terrible compared to Brazil weather. Even with this issue, I think that Finland is a good country to live in because of health care, safety and infrastructure. I talked to other Brazilians that are doing exchange here too, and they traveled to many other European countries – all of them had the same conclusion: Finland was the best place to live in Europe compared to the countries that they visited.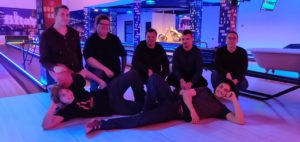 Brazilian exchange students are a great addition to the team.
Research Manager Joni Kukkamäki from HAMK Smart -research unit says that he has been very pleased with all the contribution Henrique has given to the development and research done at HAMK. Not only considering research, but also IoT education too, which will be crucial in the near future and for which Universities will need proper tools and platforms. Nowadays IoT skills are taught to IT-students but in future, everyone will need understanding and skills related to this huge phenomenon. Research and evaluation that Henrique did for one platform generated important information for the whole HAMK while we are choosing proper platform for use.
"Henkka is such a great guy and he fitted so well in our team. I really hope that he had a great experience and that he learned a lot as well. It was great to hear that he is planning to come back to Finland again next year!" says Mr. Kukkamäki, who acted as a supervisor for Henrique´s project.