Have you ever heard about the Neuschwanstein castle? The name surely rings a bell but let me give you a hand. Imagine a magnificent white castle gleaming brightly in the sun, nestled high on a slope with picturesque mountain scenery in the background. Yes, that one, the fairy-tale Neuschwanstein castle in Bavaria. I've decided to visit this famous castle while doing my practical training in Germany and share this experience with you!
The amount of opportunities you are presented with when you're brave enough to go for an internship/practical training abroad seems almost endless. From the moment I've arrived at the farm, I've met many interesting people, experienced new situations and I've been gaining professional competence day by day. In addition to that, staying abroad is a chance to travel, to discover new places and I definitely recommend you to grab it.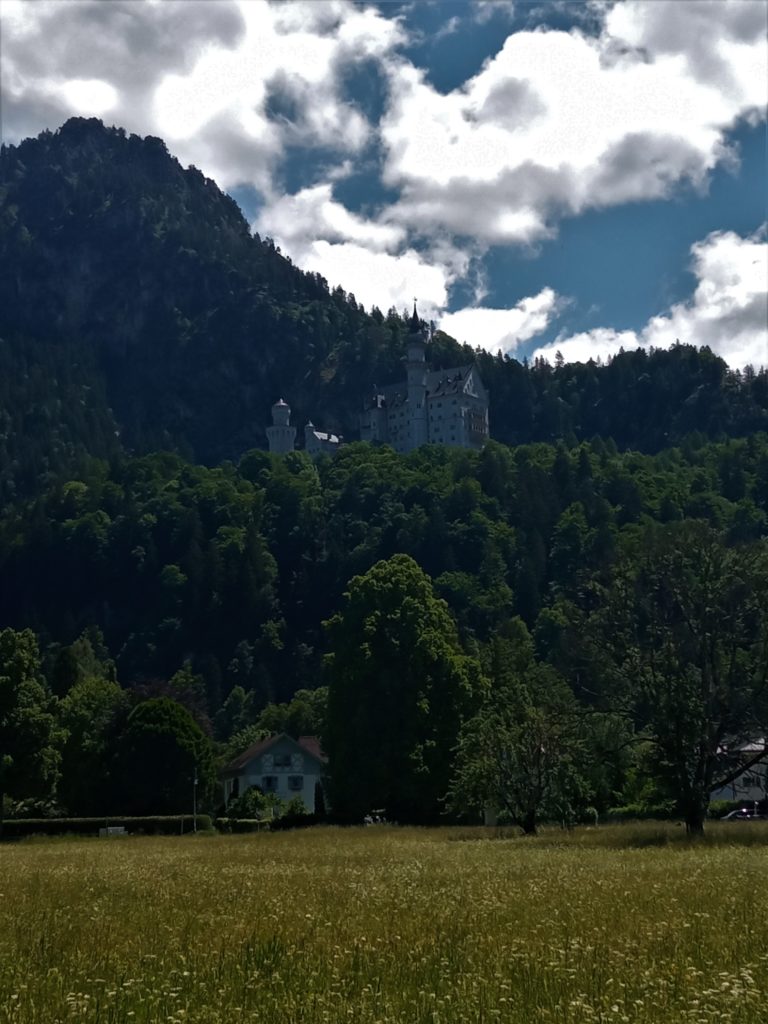 The Neuschwanstein castle is located above a village Hohenschwangau in the southwest of Germany. The easiest way to get there if you don't have a car is by taking a train to a nearby town called Füssen, from where you get on a bus heading directly to Hohenschwangau. As this is one of the most popular tourist locations in Bavaria, be prepared for big crowds of people from all around the world. Once you get to the village, you can choose from several things to do, however, if your goal is to go on a tour of the castle, I strongly advice you to buy the tickets online in advance, because there is a limited number of visitors every day and you might not get a ticket at the ticket centre unless you come early in the morning.
Upon buying your ticket, you will get a tour number and a precise time slot when you have to be at the entrance. There are several ways you can get to the castle as it is not directly in the village. You can for instance take a bus, pay for a horse carriage, or like in my case simply walk. The walk is around 1.5 kilometres uphill and officially it should take 40 minutes, but it took me much less.
After entering the castle at your given time, you'll be given an audio guide and the tour begins. Don't expect to spend too much time inside, as the tour only lasts around 30 minutes and unfortunately, not all parts of Neuschwanstein are accessible for public, however, be prepared to be astonished. From my personal point of view as a history lover and
a castle enthusiast, Neuschwanstein stays true to its name. As you will find out during the tour, it was built in the 19th century with the intention of creating an ideal medieval castle, without any defensive purposes.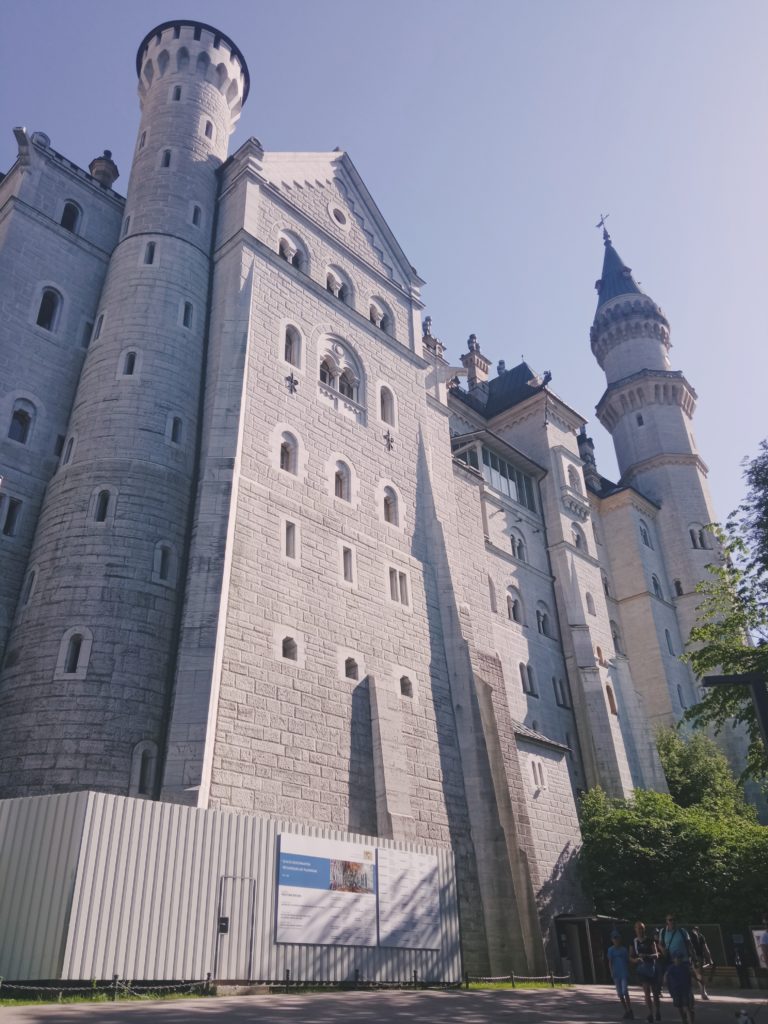 The interior is simply breath-taking. King Ludwig II, who was an avid admirer of art, had a somewhat idealistic perception of the medieval period and wanted Neuschwanstein to be a representation of that. The rooms are lavishly furnished and decorated by paintings from legends, such as the legend of Sigurd or the legend about Tristan and Isolde, as well as religious and historical motives. The grandeur of Neuschwanstein will leave you speechless.
At the end of the tour you can buy souvenirs from two shops inside the castle and then head back down to the village while still processing what you've just witnessed. The day in Hohenschwangau is not over yet, in fact, you can visit the Hohenschwangau castle, which sits on a smaller hill right opposite to Neuschwanstein. Hohenschwangau is the castle where Ludwig II was growing up with his family and although it's not as fantastic as Neuschwanstein, it shows a lot about his early life. You can also visit the Museum of Bavarian Kings or spend time walking around the Alpsee, a beautiful lake just 5 minutes from the village centre.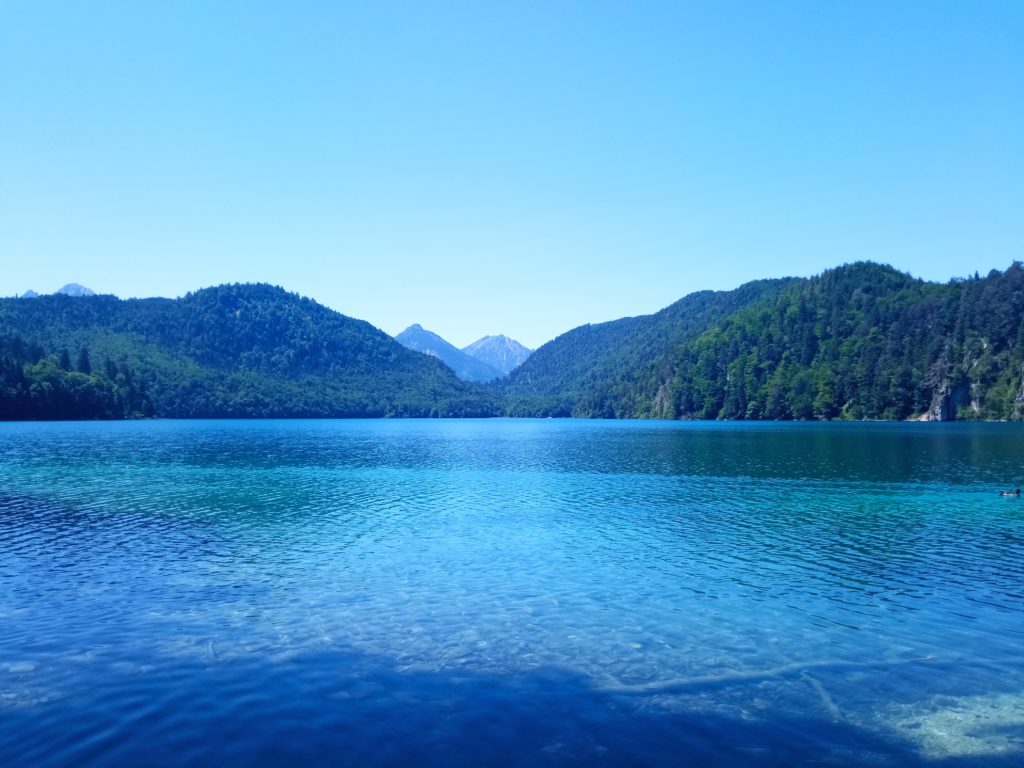 If you ever get the opportunity to visit Schloss Neuschwanstein, I hope you'll enjoy it at least as much as I did!