My name is Heidi and I'm 22-year-old part-time student from Häme University of Applied Science, Valkeakoski Campus. I started my Erasmus exchange in the fall 2019, and I studied in University of Derby for one semester.
I wanted to go for an exchange because I had an opportunity to take a break from work, and I wanted to broaden my views in a sense of studying abroad and experiencing the difference in teaching, the school system and also the culture. I study International Business back in Finland, so the exchange made total sense for me and for my studies.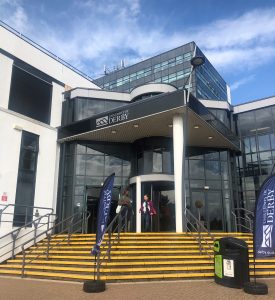 The applying process was long and challenging. I wouldn't say it was hard, but you have to be aware of that nobody else is going to do the work for you. My applying process started on March 2019 (my exchange began in September 2019), so that is almost 7 months of figuring things out, filling up paperwork, while constantly doing research.
I would also want to remind the students that are going to exchange next Fall 2020 that you will get your confirmation more than likely around May, when the teachers in Finland are about to start their summer holidays. Because this happened to me, and I did not have any support from my own teachers from June to August, while you do all of these decisions concerning about the courses etc. So you really need to be aware of this and be mentally prepared to take the lead and make your own decisions. It is a great learning experience and you will grow in many levels during it, but it will take time and energy, especially in the spring, when you have deadlines and assignments to do.
When you go to Erasmus exchange they offer you a grant. The amount varies depending on the length of your studies. The grant is for you to use however you want, but I chose to use the grant to pay my accommodation. You can also get some support from KELA to cover the costs during your exchange.
Derby is part of a county called Derbyshire, and is a part of bigger area called the Midlands. As the name suggests, Derby is located in the center of the UK. The population in Derby is around 257000-258000 people, which can be compared to the population in Tampere or Espoo.
Before I came to Derby I had heard from other students that in here people have a really strong accent, which would make it hard to understand them. However, I did not face this problem at all. The locals speak clear British English that is easy to understand.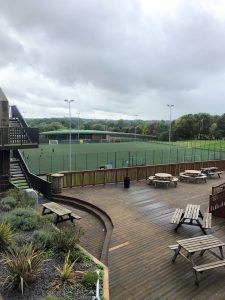 The city is quite old, and has a lot of old buildings and churches. The city center, at least for me, seemed quite compact. There is only one big mall in the center called Intu, but you can find anything and everything from there. Derby is after all quite big area if you start to explore it more thoroughly, and there are really nice small bars and restaurants outside of the city center.
The university sites are a little further away from the city center. Kedleston Road is the main building of the University sites. I had all of my classes here. From Kedleston Road you can find the Sports Center, the main library, Starbucks, Uni Shop, bookshop, hairdresser, and Subway to mention a few. Other university sites are Markeaton Street, Britannia Mill and One Friar Gate Square. I also need to praise the university of having Uni buses. They are buses that take students from different university sites to the halls and city center, for free!
University of Derby also offers student living in halls. There are a lot of options to choose from – Agard Court, Cathedral Court, Darley Bank, Flamsteed Court, Nunnery Court, Peak Court, Sir Peter Hilton Court and St Christopher's Court. I chose to live in halls, for social reasons and also because of the duration of my exchange was not that long and I figured that it will be the easiest option for me. There are many different halls, as you can see, where you can choose your favorite to fit your wants and needs.
Like I already mentioned, I stayed only for one semester, which left me with only one option St. Christopher's Court, because the other halls don't offer short contracts. I was happy with my overall experience in my halls, but I just wanted to point out that if you are not staying for the full study year this might affect to your decision making. The weekly payments vary from £114-160 between different halls.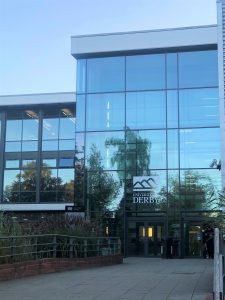 In University of Derby they have brilliant system to get the local – and international students to socialize and feel more united. The social reps are really active by providing all kinds of different events and trips that the students can join. They have game nights, quiz nights, trips to different cities with a really affordable prices, we also had a Christmas dinner in halls, different parties and get-togethers, where they have free food and drinks. Me and my friends joined these events several times and they never disappointed us. These are also great ways to meet new people from different counties and find new friends.
I feel like I was quite strong with my English language before I came here but I have learned so many new words and sayings that I can't even count them. I have also become more fluent and comfortable with talking English and it comes so naturally now. I also learned a lot during the applying process. I had to do a lot of things by myself, which was amazing learning experience. I want to emphasize that you don't need to be a pro for instance in English when you go for exchange, because the semester or the year that you spend in your exchange is the time when you have the best opportunity to learn it.
If you are interested or you would be willing to go for exchange I can warmly recommend to do it! You will get lifelong friends from all around of the world, you will have the best experiences in a different country and culture that you would never be able to get at home, in Finland.
I will also gladly help with anything and if you have any questions about Derby or about exchange as a whole!
Heidi Runsas is an International Business student at HAMK's Valkeakoski campus. She studies part-time while working and is completing her Erasmus+ exchange studies in UK.