Greetings from Breda, Netherlands!
As an exchange student studying at Breda University of Applied Sciences, I have had the privilege of experiencing a new country, culture, and education system. My journey to Breda has been a mixture of excitement and anxiety as there were lot of unknowns. However, as I have been here for a few months, I can confidently say that my experience so far has exceeded my expectations.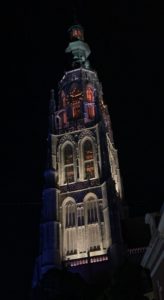 Breda is a beautiful city with a rich history, and the people are warm and welcoming. One of the things that struck me the most is the Dutch culture of biking. Biking is not just a form of transportation here but a way of life. Bikes are everywhere, and the infrastructure is designed in such a way that it encourages people to cycle instead of driving. It is not uncommon to see parents cycling with their children or students biking to school. I have also joined in on the fun and have been biking around the city since I arrived.
Breda University of Applied Sciences is a modern institution with a practical approach to education. The lecturers are experienced professionals who have a wealth of knowledge and experience to share. I have had the opportunity to learn from them, and the learning experience has been phenomenal. The teaching style is somewhat different from what I am used to, but it has challenged me to think critically and apply what I have learned in real-world situations.
Being an exchange student has given me the opportunity to meet people from all over the world. The international student community at Breda University of Applied Sciences is diverse, and I have made friends from different countries. It has been a fantastic experience to learn about their cultures, languages, and traditions.
Overall, studying in Breda, Netherlands has been an eye-opening experience. It has allowed me to learn and grow as an individual, both academically and personally. I would encourage anyone considering studying abroad to take the leap and experience a new country and culture. It may be daunting at first, but the rewards are immeasurable. I look forward to the rest of my stay here in Breda, and I am excited to see what else the Netherlands has to offer.
Eric Korvensyrjä
Traffic and Transport Management student