Hello! My name is Maria Takaeilola and I spent 4 months in South Korea's capital, Seoul. My exchange period lasted for one fall semester in 2022. In this blog, I'd like to focus on the school that I attended and what I experienced there. I will talk about my normal day there and what it includes. I also want to share my experience with the school club activity! The classes I took there were interesting, so I will also tell a little bit about them. Overall, my experience in Seoul was incredible and I am so grateful that I got to have this time there.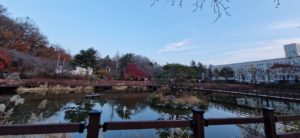 The school that I attended is called Seoul National University of Science and Technology (in Korean: 서울과학기술대학교). But that is a very long name, so the school had a short version for it: SeoulTech. It's located in northeast part of Seoul. The school has a big campus with about 11 500 students that are divided into 6 main departments: College of Engineering, College of Information and Communication Engineering, College of Energy and Biotechnology, College of Art and Design, College of Humanities and Social Sciences and College of Business and Technology. I was located under College of Humanities and Social Sciences in the department of Creative Writing. In Finland I study Sustainable Development but I had a chance to study something totally different and that's what I wanted to do. I wanted my exchange experience to be me trying new things and learning something different.
I had four classes throughout the semester, and they were called: Logical Writing, Creative Thinking, Popular Culture & Society and Korean for Beginners 1. In the Logical Writing class, I had the chance to learn about writing academic essays and how to structure them properly. I see this helping me in the future with writing different types of texts. Creative Thinking class was a bit different. In that class, we got to analyse art in all its forms. We connected current social issues with expressing them in art, tried to find solutions within our school and wrote artwork analysis essays. The class was not the easiest, but I feel like I learned a lot and got to see different perspectives from my classmates. In Popular Culture & Society class, we had similar concept as the previous one: Connecting social issues to the studies.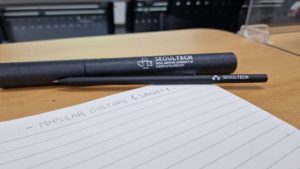 This time we did it with connecting Korean culture to current events and analysed them in small groups and with the teacher. This thought me a lot about seeing how culture affects people who live in it. Finally, the Korean language course. Even though I studied Korean a little bit before the exchange, I thought that it would be good to have the course from a Korean teacher. This way I was able to maintain my Korean skills and learn new things along the way. My teacher was really supportive and classmates very active, so I have only good memories from those classes. Overall, I enjoyed all my classes and learned a lot in them.
Now I'd like to share what a typical school day for me looked like. I usually woke up about an hour before I had to leave for school. My route to school included few stops with metro and the rest with a bus. It took me around 30-40 minutes to get to school, which was longer what I am used to but I didn't mind cause I got to see beautiful scenery in the bus and in the metro as it surfaced half way the journey. Most of my classes were in the same building so I learned the route there quickly.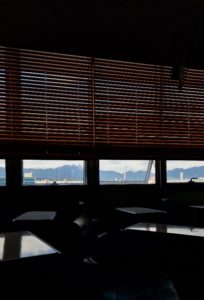 All of my classes started around midday, so I usually grabbed a little snack from the campus convenience store and ate it before class. The options were not the best for me since I am a vegetarian but I managed (sometimes I would bring something from home), but for omnivores, the shop has many delicious options! The campus also had may cafes and a school cafeteria, so it had everything for everybody. My classes would last around 3-5 hours a day with little breaks between them. During the breaks I would meet up with friends on the campus and chat, study or eat together. After the classes I would wait until my school club activity would start (I'll tell more about it in the next paragraph), I had them about 3 times a week. Then I would head home, or if I didn't have a late day at school, I would head out with friends to explore Seoul. I miss these days a lot and keep them in my memories fondly.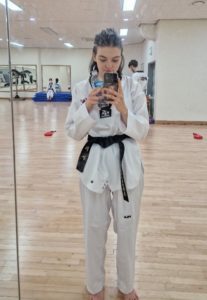 Then about the school club activities! There were so many options to choose from. There was dancing, photography, different areas of music, writing, yoga, football, many other sports, languages, religion related… The list could go on and on. For myself, I chose taekwondo. It's a Korean martial art and it's something I have wanted to have as a hobby for years now. So, I was thrilled that I got to practice it in the home country of the sport. We would have practices around 3 times a week and they were 2 hours each. At the beginning we borrowed uniforms from the club but after few weeks, we got the chance to order our own uniforms with our names written in them. I was so excited in every practice and wanted to learn it well. Our teacher was a student himself in the school and he was a great teacher.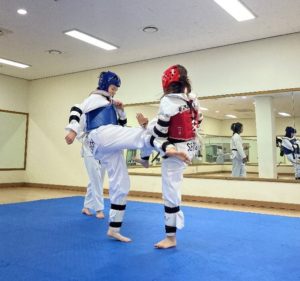 Very supportive and he wanted us to succeed. He didn't speak English very well, but we understood each other well enough. In the beginning there were a lot of exchange students participating in the practices but slowly people stopped coming, which is of course understandable that they wanted to spend more time exploring the country etc. me and another girl were the only foreign students at the practices in the final weeks. I got so motivated that I want to continue taekwondo in Finland. I really miss the practices and the excitement of them.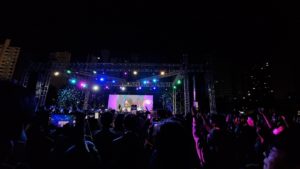 Lastly, I'd like to talk about the school festival we had in the beginning of the semester. It was a three-day spectacle with guest artists, performances from the students and food trucks. The festival was held in the soccer field of the campus and lots of students participated in it. Our schools' students were talented in their performances. The food trucks contained famous Korean street foods and also different delicacies from another countries. The nights would always end with guest performers that were famous Korean artists such as MFBTY, StayC, BIBI, Younha and many more! I'm a fan of some of the artists that performed so it was surreal to see them in our campus. I really enjoyed those 3 days.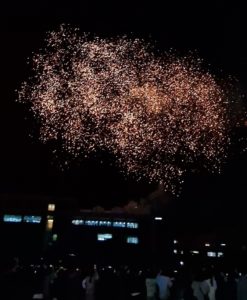 During my semester I got to experience such wonderful things that will stay with me for a long time. The teachers were very kind and helpful and they knew what they were talking about. I learned a lot from them. I really can't remember the last time I was this excited about school and it gave me confidence to work on my studies even after the exchange was over. I am forever grateful for this semester and wish to visit South Korea again in the future.
– Maria
Maria Takaeilola
Sustainable Development student