The BIPAS campus in Udayana University, Bali
My name is Mari, and I am a third-year Construction Engineering student in HAMK.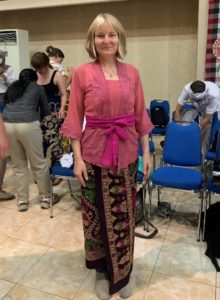 I went to Bali as an exchange student in fall 2022. I wanted to go to Bali to study in Green Academy program there, because sustainability is very important topic now in the construction too. Unfortunately, the program was cancelled when I was already in Bali, but luckily there was another university there, and I managed to change the university.
We went to Bali already in the beginning of July, because we wanted to tour the island before starting studies in September. The exchange was very interesting, mostly because Bali's culture is completely different compared to Finland.
Udayana University had about 100 exchange students through Asia Exchange. All the exchange students were placed in their own campus, which was a bit unfortunate, because the contacts with the local students were minimal. The teaching was in English, and because of the pandemic situation, we studied online every other week. Lectures were organized Mon-Wed from 8 am to 4 pm. This made it possible to travel, and many students took the opportunity and toured Indonesia and neighboring countries. WhatsApp was the communication channel, and the exams were organized either on campus or online. Dressing code was semi-formal, and shoulders and knees had to be covered, even when studying online. Sandals or flip-flops were not allowed. Jeans, nice t-shirt, and sneakers were fine. Generally everything at the university went well and relatively on schedule, although you had to get used to last-minute cancellations and changes, which are not uncommon in Bali.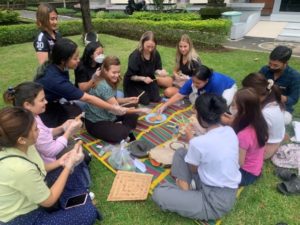 Student life was quite active, but because of children with me, unfortunately I was not able to participate in it. A kick-off party, barbecue party, cooking class with local students, surfing lessons and scooter driving lessons were organized for the exchange students. There were an endless number of wonderful beach clubs and party places in the beaches of Bali, which would certainly have been nice to visit.
Students had to arrange the accommodation by themselves, but that was the least of the problems. Bali has many accommodation options in different price ranges, from hotels and guesthouses to villas. It was enough that the accommodation was booked for the first few weeks in Bali. Many students ended up renting together a large villa with a swimming pool and a cleaner further away from the campus on the west coast of Denpasar, where was a lively night life. We ended up living in a quiet area of Jimbaran, close to university campus and children's school.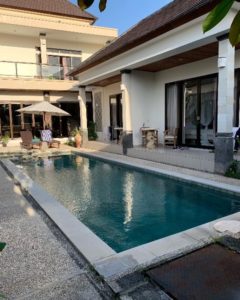 The most convenient way to get around Bali was by scooter or taxi, as there is no public transport. The traffic was chaotic, and even short trips took a surprising amount of time. It was a good idea to get used to driving on the left side and handling the scooter in quieter streets. A helmet had to be always worn! Not because of the law, but because of the safety. I had an international driver's license with me, but I was never stopped by the police, even though the police were happy to try to fine foreigners.
The good things about Bali were warm climate, beautiful nature, and affordable living. The most expensive things in the travel budget were plane tickets, visas, and vaccinations, but living in Bali was cheap. With study grants and loans, even a family lived comfortably there. I also took some extra loan just to be able to do fun things and not to calculate every penny. The food was fresh, and it was easy to follow special diets. We suffered from mild "Bali-belly" only a few times, although we also ate in local warungs, in other words street stalls. You had to be extra careful with the tap water and never put it in your mouth, even when brushing your teeth. However, you could buy drinking water almost everywhere, and I quickly learned to check that the accommodation included free drinking water (and coffee!). The absolutely best thing about Bali was the local people who were extremely friendly and helpful. Most people spoke English more or less, especially in the city. They were also very happy if you managed to communicate with them in Indonesian.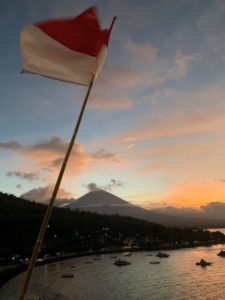 The temperatures ranged from +27 to +32. The rainy season started at the end of October, and for a few hours a day it was thundering and pouring down heavily. The classrooms were effectively air-conditioned, and with bad luck, you ended up there being moderately wet. The coldest feeling ever. With heavy rain, the internet could also stop working, and a scooter taxi that delivered food was hard to find.
Although Bali had a relaxed atmosphere, it was a surprisingly conservative and religious place. In Bali, about six different religions live harmoniously side by side. Most of Balinese are Hindus, and other major religions are Muslims and Christians. In Bali you see Hindu ceremonies almost every day. When going to holy places (or to the government offices), the shoulders and knees had to be covered, and often a sarong had to be worn. In the touristy areas local people are used to seeing western people dressed revealingly and sexy, but in the other parts of Bali, the local culture should be respected and dress accordingly. Of course, when you go to another country, it is always very important to respect the local culture and way of living.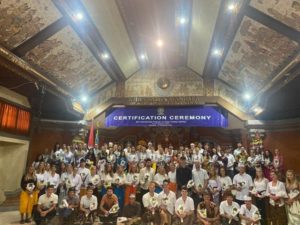 Mari Toivola
Construction Engineering student