Project work is an everyday task for engineers around the world. For this reason, also engineering education have a lot projects nowadays. Projects are a great way to learn not just the things related to for example designing or manufacturing, but also other skills valuable in the professional world. These skills include teamwork, leadership, management, organising, time management, communications and presentation skills to name a few.
3D scanning in the focus
In the degree programme of Mechanical Engineering and Production Technology, there are many opportunities for project work and learning in projects. One of the most interesting and current project topics is 3D scanning. During the past couple of years, the degree programme has had a lot going on around 3D scanning: several hundred products have been 3D scanned for the purposes of different companies.
3D scanning means converting physical objects into digital model, and it enables quick and accurate capture of the object's shape and geometries. The scanning is performed by capturing digital information about the shape of a part through the light or laser technology to determine the distance from the scanner to the part. This process creates a complete digital representation of the part, and it can be used for reverse engineering, quality inspection or at any point of a typical manufacturing cycle.
Reverse engineering is one of the important skills that student learn when working with 3D scanning. Reverse engineering is used for example for manufacturing new products based on an existing one that does not have any digital models, and in all its variety, it is an important tool for mechanical engineers and the industry.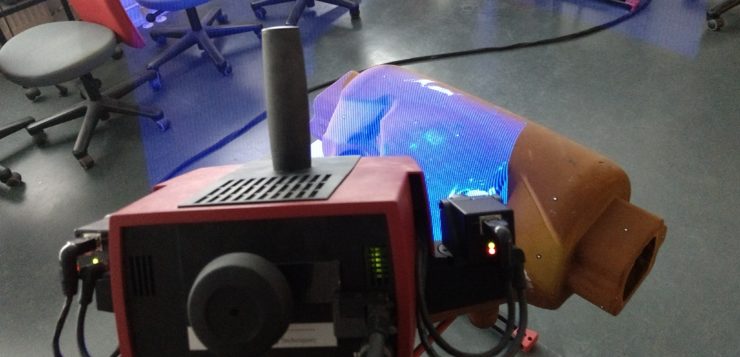 Students working hands-on
And how is it that students learn in these projects? They learn by practical working, with each other and in the guidance of professionals, both from the university and companies. Some of the students do not have a lot of knowledge on the topic beforehand, and some of the students have become almost experts in 3D scanning.
Peer learning has an important role in these projects, since we always have more experienced students in scanning teams to work with the less experienced ones. Students learn from each other when working with companies, and teacher's role is more like coaching, describes lecturer Timo Kärppä the benefits of project based learning.
In 3D scanning projects, there is always a team of students working on the task given by a company. Sometimes the company delivers the part to be scanned to the university, and in some cases, students take the 3D scanner and visit company premises to do the scanning. There is a constant communication between the student team, coaching teacher and the company. Students get to learn by practical working, and of course, it also means getting familiar with theory, different kind of calculations and so on. However, the main focus is always on applying the knowledge in to practice and learning new things based on the needs of the specific scanning project.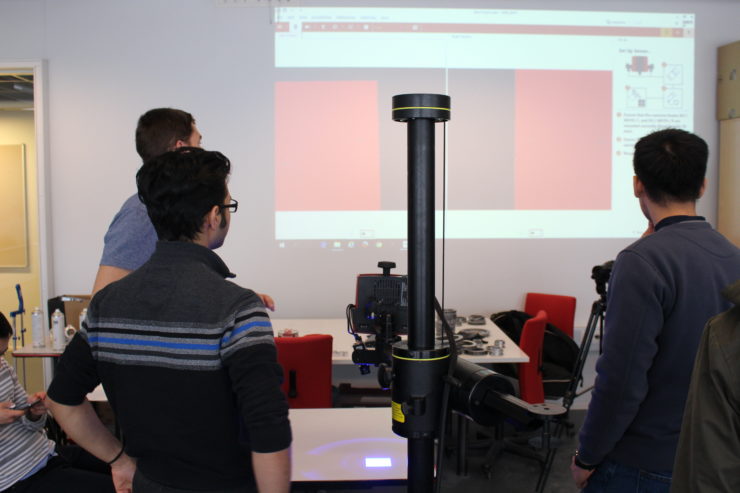 Company cooperation creates the foundation for project work
Mechanical Engineering and Production Technology degree programme has been working in the field of 3D scanning with local and global companies, such as KONE, Valmet Automotive, GS-Hydro, Patria, Sacotec, Sarlin Racing Team, URV and several others. Working with companies, solving their real problems and participating into their operations give students not only a platform to develop their professional knowledge, but also an opportunity to network and develop general skills.
Students work in direct contact with companies in 3D scanning projects.
Many of the students actually work in a role of an expert during the project, and they get to be part of taking new technology in use in the companies. They also get to build their professional identity and network already during their study time, which offers them good opportunities in terms of employment later on. To sum up, we are offering students a possibility and support to develop themselves as experts in this new technology , says Jussi Horelli, the head of the degree programme.
Read more about 3D scanning and reverse engineering from one of our blogs: https://blog.hamk.fi/h3d/
Salla Niittymäki, Education and Development Coordinator