Zdeněk Eliáš spent the academic year 2016-2017 at HAMK as an exchange student. He studied in the Business Administration degree programme at the Hämeenlinna campus. At the beginning of 2020 he returned to HAMK to visit the annual international week, the Freezing Week. He has a special bond to this event since he has designed the logo for Freezing Week. During the visit, Zdeněk also shared his exchange story to us.
Introduce yourself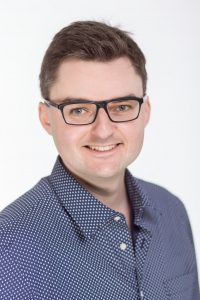 My name is Zdeněk Eliáš and I am from Czech Republic. I studied at the University of West Bohemia in Pilsen and finished my Master's degree programme in Business Economics and Management in 2019. The first year of my Master's studies I spent here in Finland. I studied at HAMK courses from the Bachelor's degree programme but I could include them to my Master's degree.
Right after my experiences in Finland, I started to work as an Online Media Specialist at AIMTEC in Pilsen which is my hometown. AIMTEC provides it-solutions for industrial companies, for example for automotive industry. Currently I'm working there as a Creative & UX Specialist in the marketing department and my tasks are related to B2B marketing.
I am responsible for the graphic design of all our marketing materials. My job is to make good visualizations of the products which we offer. It can be challenging, because we offer software solutions. I also participate in the preparation of our AIMagazine, which monitors trends in the field of industrial automation and digitalization.
Why did you choose HAMK as your exchange destination?
My faculty of economics in Pilsen had a contract with HAMK and it was possible to study at HAMK International Business or Business Administration. I chose the second one because it was closer to my degree programme in Czech Republic. It was great that I could combine those studies with some courses from other degree programmes. For example, I had some design study modules. I'm quite a design and marketing person and discovering new fields like fashion during HAMK's Global Fashion Business module was really interesting.
In fact, I'm also self-employed in Czech Republic and I have a few clients. That's why I had done graphic design before my exchange also, but I had never studied it. Here at HAMK I cooperated with Juha Laurikainen from the Design degree programme and created the logo for the Freezing Week which was a great experience for me. It was amazing how we had free hands to execute it. I felt so satisfied that I could leave here something that I had created when I left back to Czech Republic.
What differences did you notice at HAMK compared to your home university?
I was surprised by the freedom which I had here. We also had online studies which was new to me and it was something that I didn't expect. What was different as well, was that in Czech Republic you have the same schedule for the whole half a year and here at HAMK you have different modules and courses start at different times.
I liked the practical approach and how HAMK is connected with local companies and cooperating with them. For example, during the Global Fashion Business module we met a lot of people from the fashion industry. I also liked that HAMK cooperates with VIA University from Denmark and has teacher's exchanges. Then you can compare different teachers and topics from different countries.
Has your exchange period effected to your career and what kind of benefits it has given you?
I would say it has influenced me a lot. Almost every week I remember something that I did in Finland. I definitely think that being one year away from your home country is an amazing experience. You will also learn about your own culture because you are comparing it to the other culture. I met a lot people from other universities. We lived together at the Sairio accommodation and I had the opportunity to discover their different cultures.
I also learned some professional skills. Right after I had started to work at AIMTEC, I had to edit a webpage based on WordPress. At HAMK in the marketing module we had to work with WordPress and in the Global Fashion Business module we had to add an article about the Copenhagen Fashion Week to the blog. So, when I had to work with WP in my job, I already had some experience about it. Also, Minttu Lampinen showed me how Google Ads works. Of course, we couldn't go very deep into it because Google Ads is such a huge topic. But I was shown a lot of possible ways to do marketing which I found useful.
Later in my work we were thinking changes in some webpage which is connected to our company. With our advertising agency we were thinking what to change and what to keep and it was something that we did with Eveliina Toivonen at the Marketing Dynamics course. We had a company example and we had to visit their website and to say what is good and what is not good about it. In fact, it is something I'm doing right now in my current position related to for example ux design. So, I think that first basic steps of this topic I got from HAMK. It is great how teachers at HAMK are not just teachers, but they also have different experiences and backgrounds. Some of them are self-employed and have their own businesses which I found as a big benefit.
What was the most memorable moment during your stay in Finland? Did you encounter some cultural differences?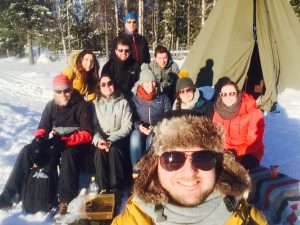 We went to this sauna party near HAMK's campus. I would say that was a quite extraordinary experience for me though we had sauna in Sairio too.
In general, I really like Finnish culture. I like how Finns are honest and respectful. I didn't have any problems in Finland, people were helpful at the campus likewise in stores for example. I made a few friends here and two of them are Finns. People in Finland don't talk a lot but even when they don't speak, they are able to say a lot.  And I like how Finns are so calm, or maybe they are just good at hiding the stress.
Also, I like the way how Finns are connected to the nature. The nature wasn't a big value for me, because I'm a city guy and like big events and lively city life. But coming to Finland and living in Sairio in the middle of nowhere next to forest and Aulanko nature reserve was a great experience and I'm happy I did it. My friends didn't believe that I would be able to stay here the whole year, but I enjoyed it. At that time, I felt I needed to change my environment and coming to Finland was a great choice.
What did you do in your free time here in Finland?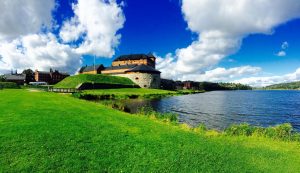 One benefit was that my accommodation in the shared room in Sairio wasn't too expensive. I also had an opportunity to earn some money while being in Finland because I worked for few of my clients in Czech Republic and did some graphic design for them. So, I had some extra money which gave me a lot of opportunities to travel. I think one big benefit of Southern Finland is the location. It makes it possible that you can travel a lot. During my stay I visited St. Petersburg, Stockholm, Tallinn, Lithuania and Latvia in addition the cities here in Finland.
In Hämeenlinna I really liked the lake which is next to the Häme Castle. I also had a bike which was a whole new experience for me because I don't cycle in Czech Republic. In Hämeenlinna I cycled a lot around the city and often went to the campus by bike except in the wintertime.
Sometimes we students cooked together, and I had a lot of international dinners with my friends from different countries. It was great to taste some flavors from Spain and some drinks from Estonia, for example. One of the students, my friend Gabriel from Switzerland, had travelled a lot before his studies and in Latin America he had learned salsa. He and some Catalonian girls were great teachers and we danced salsa in the middle of forest in Aulanko! Gabriel also taught me how to play chess and we cooked together too. I really like meatballs which we ate with some amazing sauce.
We had the opportunity to go to the sauna two times a week which is something that I'm missing in Czech Republic.
What would you say to a person who is planning to come to Finland and to HAMK as an exchange student?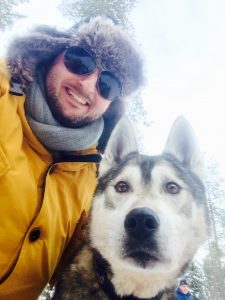 Definitely I can recommend it. What I liked in Finland is that some parts of its history are maybe quite similar with Czech Republic and I feel Finland is close to me. But I think that maybe the fact how you enjoy being in Finland can depend on which country you come from. It is good to read some articles about Finnish culture. When I made the decision to go to Finland, I wanted to know a lot of information about Finland. I found out about the history and read Kalevala for example. I wanted to know about Finnish habits and I really like the Facebook page called "Very Finnish problems".
If you're coming to Finland I think half a year is not enough. Don't be afraid to prolong your stay because the experience you get here will be really useful for your future career. It is good to find out beforehand which of the studies you do during your exchange you can count into your degree, because that can affect on how long you have to study overall. I could count the courses that I had in HAMK to my degree and didn't have study those in my University in Czech Republic even though I had to postpone my graduation.
HAMK has a great international environment. The staff members are professionals and I can recommend the Finnish education system. I heard it is the best education system in the world. I think in Finland it is more about learning skills than learn some information. I read some articles about Finnish education system and I really like how you follow trends here and you know how to teach people to find the right information which I think is quite important. You don't have to know anything about everything, but you must know how to find the information when needed. I think that this is something that should be learned from the Finnish system in some other countries too.