Smart and Sustainable Design student Isabel has always been interested in arts and design. She moved to Finland about five years ago and that was one of the best decision in her life. Isabel hopes to be a part of "normal" student life and participate in various events some day without a global pandemic. In the future she wants to continue learning, grow up as a person and keep happy feeling about her life.
Can you tell a bit about yourself?
My name is Isabel Torras Aspa, I born and grow up in La Garriga, it's a little town nearby Barcelona. Since when I was a kid, I always liked arts, design and do things by myself. After finishing the high school in arts and design, I decided study Artistic Jewelry. I was quite lost in life back then, so after presenting my final project I decided went out for a year and is when I end up in Finland. Now I been living in Finland for almost five years and I feel it's the best decision I never took.  
In my free time I like to hang out with my friends, watch movies, long walks and take some photography, when I have enough motivation I go to the gym as well. I try to ice-skating and avanto (sauna and swim in the frozen lake) as much as it is possible during winter and I like to be in the sun during summers, play cards and swim in the sea (or lake when I'm here). 
Why did you decide to study at HAMK?
It was quite random how I end up on HAMK. I did the application, task and interview on November 2019 and before Christmas I knew I had a place for study here, but everything was pretty fast, and I didn't think about it deeply. I was living in Tampere where I was working and studying, and I thought to stay there with my job and studies. But then covid19 came and all my world turned upside-down and thanks to the quarantine the idea of study in HAMK came to my mind again, so I started to get more information and talk with the tutor and I just change the path I was, move my life to Hämeenlinna and start the studies in HAMK. 
Why did you decide to study your current major? 
I always been interested in arts and design, and I knew that I wanted to continue studying something related to that. When I saw the degree in Smart and Sustainable Design, I thought that was an interesting combination about what I wanted to study and it also goes with my interest. Afterwards, I needed to choose between fashion design, footwear, and glass & ceramics; glass & ceramics call me more my attention, so I went for it.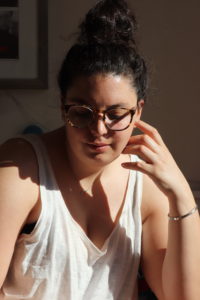 Tell something about your studies, what do you think about Smart and Sustainable Design and how studying is going? 
I was a little bit scared when we started the studies because it's the first year of Smart and Sustainable Design, so we don't have any references from other years students, but I really like and enjoy it!
In my opinion our major take big part of the studies and somehow, I miss some more theory, I mean about classes non-related with our major. But I'm not going to complain about it, I like a lot work with glass and ceramics.
During the second module we started to work with our major, and try different clays, glass and colours.  It came to my mind some ideas that I would like to explore and working with related with the colours and how they react in the kiln and to each other. I hope to be able continue exploring that path for a little while now, I'll let you know how it goes.
What is the best part of studying and what is the most difficult part?
I would like to answer that the best part of studying is the student life (aka parties, meet new people and go around), but I don't even been in a university party since I am student and I know my classmates with a mask on their faces… all the "uni life" I lived in Finland was before study in the university.  
Se la vie, we just need to life with that and hope that everything goes better in a sooner future, right?  
Now a days we are just use it to it, but for me need to do class in zoom is the most difficult part! I'm not a fan of been in front of the computer so Zoom/Teams study is just not for me. But even we need to be in the computer more than what I like it, I'm happy because glass and ceramics is done in the workshops so two days a week I can go to the campus and work with my hands.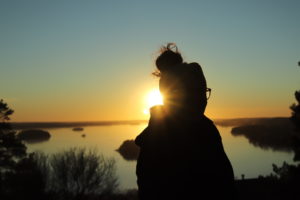 What are your future goals?
My biggest goal is to be happy and keep this feel as long as it's possible. I'm not a person who thinks a lot about future, I prefer to life the right now. I do mark to myself some goals, but not big-big thing, realistic things that I can accomplish in a couple of months or something like that and be proud of myself every now and then. I want to continue learning and grow up as a person, my interest inside arts and design been changing along the years as I did, so I just adapt myself and my goals to my interest of that moment.
Want to know more about Smart and Sustainable Design studies? Check other posts here.