First year Computer Applications student Anna is looking for a new direction in her career. Studying has taught her a lot of new knowledge, such as new information technology tools and languages. Computer Applications degree opens up many interesting opportunities for the future. Anna also likes Finland a lot and wants to learn the Finnish language some day.
Can you tell a bit about yourself?
Hi! My name is Anna, and I am from Poland. I am a first year Computer Applications student at HAMK and a student tutor for our next year freshmen. I moved to Finland in August 2020, which was quite challenging due to corona virus pandemic blooming at that time. Currently I live in Hämeenlinna. Because of the recent circumstances the social activities are quite limited, but I enjoy simple walks in the city and discovering how peaceful and fresh our town is. Thankfully, being more of a stay-at-home type allows me to cope well with the current situation.
I am a 100% book worm. I love reading and on multiple occasions I have found myself losing hours of time with interesting book, before even realizing how late it was. In my free time I also enjoy gaming (especially RPG games) and multiple art related activities such as drawing, painting or even coloring, I find it really relaxing.  I also like to spend time with my closest friends and family, be it either playing games together or experimenting with cooking recipes for a fun dinner together.
Personally, I always try to be positive and curious. I strongly believe in the lifelong learning process and I always try to live by it.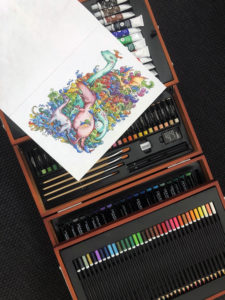 Why did you decide to study your current major and why did you choose HAMK?
There are quite a few factors that brought me to Finland and specifically HAMK. I am in my early thirties and I already have a degree as a landscape architect. In Poland, I have also worked as legal coordinator in a big, international company for a few years. At that point I have met my current partner, who is Finnish. It was a life changing event and anchor for a decision to move to Finland. I was not happy with my career path and I realized that I could have not pictured my future clearly the way it was going. That is when I decided that it is a best moment to change things around.
I have looked for a degree that I found the most interesting, but also with the biggest possibilities for development and finding challenging job in the future. That is how I have decided that Computer Applications studies would be the best, especially that I have always liked working with computers and trying to figure out how things work. The second step was to find a respected, practice – oriented university that held this degree in Finland, but in English language (since I still do not really speak Finnish well) and that is how I came across HAMK.
Tell something about your studies, what do you think about Computer Applications and how studying is going?
Since starting this degree was a big change for me and required me to completely rearrange my life, the beginning was quite stressful. I have had no idea how I will manage everything and how things will turn out, especially since I have never done any programming related tasks before. But, in the end, coming here and starting studies at HAMK ended up nothing but great for me. I have met many interesting people from all around the world and had an opportunity to work with them during our team projects. So far, I have had a chance to familiarize myself with basics of java, mySQL, html, css, php, JavaScript, python, and WordPress. Which, as for a person who had never worked with neither of these tools or languages, provides me with a great background to decide which one I would want to focus on in the future. We have also started our Finnish language course, which hopefully allows us to grasp at least basics of this difficult language.
Surprisingly (yes, I was not sure if I would be any good at programming) my studies have been going really well. The degree is being taught very clearly with a substantial focus on the practical side of the subjects. Which results in many team projects and assignments that require us to come up with working solutions. I believe this is the best way to learn: learn by doing.

What is the best part of studying and what is the most difficult part?
The best parts of studying are probably the possibilities we, students, have for teamwork that allows us to learn from each other. Working on the tasks or assignments that not only teach us how to use the skills we learnt in practice but also end up being fun and interesting to work on. Bringing the sense of accomplishment once the features we are implementing start working, after a long time of solving the: "it should work, why does it not?" puzzle. I also feel that what I learn now will be useful in the future which is a great reason to develop further.
I think the most difficult part for everyone this year is coronavirus pandemic and a lockdown situation. Having to adapt to the online system of teaching and finding how to motivate yourself to study systematically and to follow a schedule without having to go to campus in person or having a supervision at home.
What are your future goals?
I try not to plan my future to the last detail. Even my example proves that we can never know how our life will change within next years. But, for now, I would love to finish the Computer Applications Degree, find interesting internship during that time and, eventually, be able to work as a developer in Finland. My big dream is also to learn Finnish language to a communicative level, which I am sure will be a challenge. Regarding the free time, I would love to be able to travel more and see the places I still have had no chance to visit.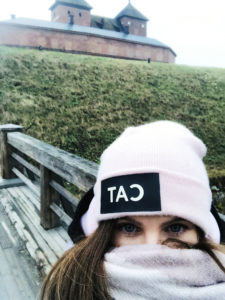 Is there anything you would like to add?
I really like Finland, its culture and people, the clean, beautiful nature. I think it is a great place to be and if anyone has doubts about coming here, be it to study Computer Applications or any other degree, from my perspective, I can definitely recommend it. 😊