At the end of February 2023, on a particularly snow stormy morning, six HAMK footwear students gathered at Helsinki Airport to fly over half a Europe and land somewhere behind Italian Alps in an unusually mismatched and foggy city in Northern Italy: Milan. As a city of luxury fashion and design, and as a center of world's footwear industry, Milan was the obvious choice for Eemil Aaltonen Memorial Fund – the organizer and sponsor of the fashionable excursion, grazie mille! – to bring these enthusiastic yet inexperienced students in the middle of the glamorous buzz and polished displays of Milano. This you should take quite literally, since the students stayed ten feet away from Duomo, the historical 500 years old cathedral, in the busiest part of the city.
Some of you might have heard wine-soaked, coffee-stained, sleep-deprived and pasta-infused rumors about the events that took place in Milan, however, today our six lucky students – Hannu, Iiris, Maija, Vilma, Trinity and Siiri – will share what truly happened and what was it really like. But before proceeding remember: reggersi ai sostegni (Italian for "hold on to the handrails") because you are about to be surprised!
DAY 1
10 Corso Como
On our first half day in Milan, the schedule pointed to 10 Corso Como, an interesting and innovative store space were you could discover niche fashion, perfume, interior, food, books and exhibitions such as "Mr & Mrs Clark, Ossie Clark and Celia Birtwell Fashion and Prints 1965-74" which at the time was on show. The space of Corso Como was beautifully decorated with interesting curtain like glass elements, long chandelier style lamps, design tiles, plants and black suited, strongly perfumed doormen.
Siiri: 10 Corso Como was a very high end place, fancy and interesting like a green and cool oasis in the middle of a stone city. Its bookstore was amazing with so many fashion and art books in all shapes and sizes. Their selection of fashion focused on some less well-known brands which was great research and made the visit really worth our while.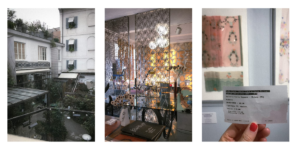 DAY 2
Micam & Lineapelle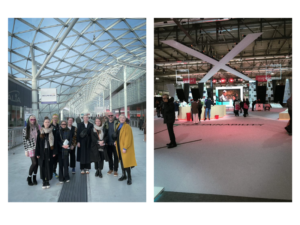 The second day of the trip was known as "the trade fair day" when we headed to Fiera Milano Rho trade center using a red metro line just like every other Milanese person that morning. There the mission was to go through the massive halls of Micam (a shoe exhibition) and Lineapelle (a material exhibit) which both are internationally significant fairs in the industry.
Siiri: There are lots of shoes in the world! And while it was interesting to see so much in one day it also made me questions what we really need in this world in terms of footwear and how to stand out from the rest of it. Seeing so much stuff in one place didn't really impress me but rather left me worried. However, I enjoyed Lineapelle more because they had an interesting trend forecasting section where you could see and touch all the fabrics and leathers.
DAY 3
Nuova Accademia di Belle Arti
Perhaps, our most waited and stressed about day was the third one, when we got an honor of visiting one of Italy's best fashion universities: NABA. During our visit we had a very interesting schedule including portfolio review session with a NABA portfolio expert who looked through our portfolios and gave feedback on them. Arguably a unique and useful experience! After that we had two masterclasses, the first one on Italian Design Methodology and the second one on Trends for 2023 And Beyond by Gabriele Moschin. To finish of the day the lovely NABA staff took us on a campus tour and showed us their design studios such as the knitting lab where they were making NABA scarves. Needless to say, we were all very impressed and amused by the layout of the NABA campus, which mimicked a small town with philosophically humorous street names, squares, cobblestone, ancient trees and graduation ceremonies. "A true fashion village", some might say. And it would not be far off.
Siiri: It was such a rare and wonderful opportunity to have your portfolio reviewed in NABA and I feel like we all got so much food for thought from the whole day. Such a great experience!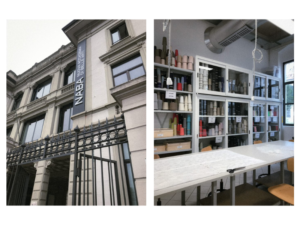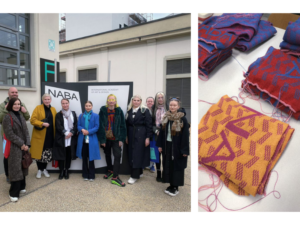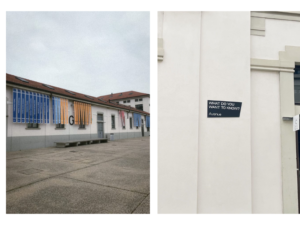 DAY 4
Brand Research Review at Via Montenapoleone
The final full day in Milan was for high fashion so to speak. We started the day by presenting our brand research in front of each brand's store in Via Montenapoleone, the luxury shopping street and the most expensive street in Europe, where fashion stores go as far as the eye can see. And since our trip took place in the middle of Milan Fashion Week, Via Montenapoleone was like a teeming ant's nest full of stylish people in luscious designer coats holding slim cigarettes, photographers with their monumental cameras and black, mysterious cars on their way to shows we could only dream of. The brands researched were Versace, Marni, Balenciaga, Dior, Chanel and Bottega Veneta. But special thanks goes to Marni, who invited us to visit their store when seeing us standing on the other side of their colorful windows, probably looking just like the stunned students we were.
Vilma: This street was an amazing place to visit. One gorgeous luxury store after another. We also visited few of the stores which was a great experience. We even got a tour with a lovely salesperson in Valentino's store.
Siiri: My brand research topic was Bottega Veneta so of course it was a highlight to see their actual store. All in all, it was super exciting to experience all the luxury brands in their natural habitat which is something we never get to do in Finland, and never during fashion week! Therefore, if you get a chance to visit Via Montenapoleone my biggest advise is to just go into the stores and explore because opportunities like that don't come everyday!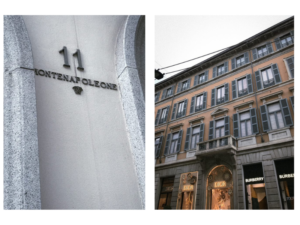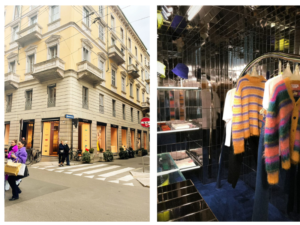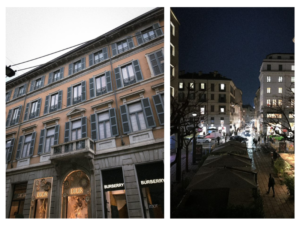 Palazzo Morando
After a brief break and an appropriate outfit change, we went back to the Via Montenapoleone area to visit a palace turned museum, Plazzo Morando. In Palazzo Morando there was a small exhibition on the history of fashion as well as rooms filled with historic paintings of Milan, some stone statues and portraits of grand people who had once lived there or who were otherwise eligible enough to be remembered. Naturally, over the course of history, the palace had had numerous interior styles which were preserved in many of its rooms leaving us a lot to wonder about from dramatic baroque to pastellic rococo and from the 19th century wallpapers to ancient Roman style floors. One room was even decorated solely in Asian style and housed a royal blue floral wallpaper with wall lengths of painted porcelain vases. Another delightful coincidence was the fact that downstairs of the museum a fashion show was going on simultaneously which meant that we got to spy not only who entered but also what people were wearing.
Siiri: Palazzo Morando, otherwise a strictly classical being, was an opulent building that on that evening was filled with almost improper echoes of pop music coming from downstairs' fashion show. All the art, decor and noises that changed from room to room made walking through the museum a strange but memorable experience as if being in multiple places or eras all at once. And perhaps, that's what Milan is all about: different elements, first seemingly unsuited together, suddenly mix making up something interesting, unexpected yet still somehow historical.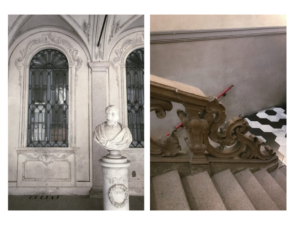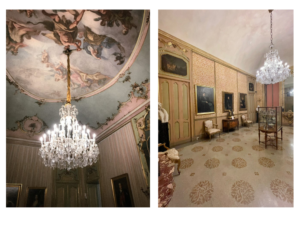 The Last Supper at Armani Restaurant
A remarkable end to the trip was our not-so-humble last supper at the Armani Restaurant that was located in the very beginning of Via Montenapoleone in strange shadows of street lights and leafless trees. Was it dining at its finest? We wouldn't know, but for us, it was a pretty spectacular, branded (of course) and fashionable experience like a well rehearsed, almost hypnotizing dance performed with precision and surprising smoothness where instead of acrobats waitresses astonish with their limitless memory and pleasant voices.
Vilma: The experience was memorable. I've never had a restaurant experience like that. The waiters were really considerate and nice. The food was very aesthetic, like it is in fancy restaurants.
More thoughts
Vilma: Milan was architectonically interesting. There were very different buildings in same areas. There were new high-rise buildings and then older historical buildings just around the corner.
Siiri: Personally, I really, really, really loved this trip! It truly opened my eyes to not only what is out there in the big world, but also to what is and could be in me, in this small person. So if you feel a little lost about what you want to do apply to these kinds of trips. They won't solve everything but they will give a lot of thoughts and perspective and experience and memories! It sounds stupid and cringeworthy but answers will rarely present themselves freely, you have to go and look for them and do that continuously.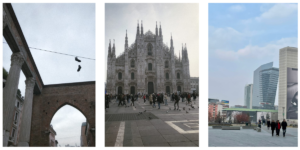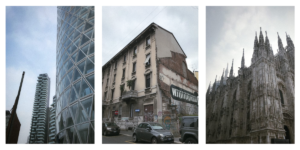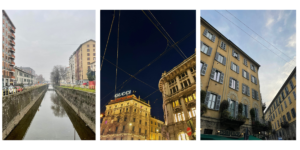 Siiri Pakarinen
Social Media Intern at HAMK Design