Ricardo Galiot, started teaching at HAMK Valkeakoski in International business degree program. Experienced in marketing and used to be a marketing director. He has worked in some of the biggest media companies in the world. He has a variety of work background revolving around the creativity aspects.
Introduce yourself and what do you teach at HAMK?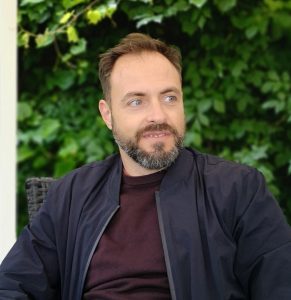 My name is Ricardo Galiot, I am 44 years old, and one of my favorite achievements has been living in 4 different European countries. I love everything about being abroad, one learns about differences and diversity, and it activates your senses and expands your experience of the world every minute.
That same journey led me to Finland about seven years ago, and I just joined HAMK as a Senior Lecturer of Digital Marketing at the International Business Program. I will also be teaching topics like Innovation, European Market Entry, and take part in amazing projects like the Design Factory and the Freezing week.
How did you end up at HAMK? What is your background in work-life?
I hold a long career in the media industry as a creative, brand, and marketing director. Furthermore, I worked for some of the biggest media companies in the world. I learned from the best at Disney, Fox, and National Geographic or Viacom, which I left to come to teach at HAMK.
Moreover, I had the privilege of participating in a project with the NGO Doctors Without Borders. The goal was to identify ways to communicate the organization's values and plans to younger audiences as they were not able to connect with them anymore. Many established brands are dealing with the same challenge of seeing their audiences, users or donor less and less engaged as behavior, accessibility, and information flow are changing rapidly.  That transformation process is one of my favorite areas of research and development.
In most of those, I was responsible for leading marketing, communication, and creative international teams.
The three things that I always loved about the role was working with a creative mindset, in a global and diverse setting where young and senior employees cooperated.
Over the years, I realized that I had a particular bias towards new and young employees. I loved mentoring them and working with them to help them navigate their experience in the big corporate world.  Following their journeys was incredibly enriching for me, their fresh approach to the working life and the connection with the real world outside the organization is an unbeatable asset. Helping them find their place and release that power was always a source of inspiration for me. I also love learning in practice, so both together made me flow naturally to HAMK.
I love HAMK's sense of excellence, international setting, and student-center approach that seemed a perfect fit for my view of the world.
What you have studied? (and where)
I am a licentiate bachelor's in Media and Visual Communication from the Complutense University of Madrid, in Spain. I also hold an Executive Master's degree in Media Innovation from Breda University of Applied Sciences (Netherlands). Finally, my latest master studies have been pivotal in empowering the ideas of diversity, creativity, and human center businesses. It has been in the MBA program at the Berlin School of Creative Leadership (Germany/USA/Japan and China), where I studied with people from everywhere in the world. A-line professionals who soon became friends and shaped my concept of community. I hope to provide a similar experience to campus life.
I should add that I am trained in Design Thinking and Service Design from several schools in the Netherlands and Spain and tend to include those tools and mental models to my practice.
What is the best thing in teaching?
Cooperation, Co-Creation, Facilitation. That's for me the sweet spot.
Teaching is an opportunity to apply knowledge and iterate. Learn from the discoveries within a diverse community, including the different viewpoints and mental models, makes the outcome more solid.
One of the things I can bring to the process is the reality of the business world. Each company runs a culture, a mix of unique people often in unique settings. But each represents an opportunity to acquire a portfolio of skills that one can unpack in the future. I hope to transfer that process and expertise. Together with the students, we create learning moments, and they can already start building their toolbox.
What would you like to say people who consider applying to HAMK International Business? Any tips?
The new leadership trends speak about the importance of authenticity to build trust and the ability to navigate uncertainty through adaptability and agility. The idea that every iteration brings something new, so the product, the service, the experience is in constant flux. That's what I found at HAMK, a team that is open-minded, authentic, and agile. People who want to know the person behind their colleagues and students, understand her context and how can we, as teachers, better support her journey. I believe that's what students will find.
Regarding tips, I can only talk about my experience in the recruitment process, which is not that far from applying to a university. Be yourself, show your passion, and don't be afraid to present your fears or worries, all that makes you who you are, and that's the best starting point for a journey like this.
Free time activity?
I love swimming. I swim almost every day, not a lot, but at least 20 minutes a day. It helps me relax and empty my mind so new ideas can come in.
In the cliché side, I must put learning and reading, but what can I say? It is true; I can't stop searching and researching. I am interested in interactive narratives. These days, I am exploring the possibilities of designing conversations between humans and robots that enhance cooperation, reward, and a sense of belonging for a better inclusive experience.