International Business student and soon to be graduated Maksim Karpelson was rewarded with The Distinguished Student of the Year 2020 acknowledgment! Read Maksim's thoughts about his eventful journey at HAMK. 
Studying in a supportive community
And now this very moment has come! I am filled with different feelings: joy (I was going through this for four years), satisfaction (I achieved what I wanted so much), pride (I studied with the best professors and students) and a little of sadness (this magical period is over).  
From the very first moment at the University, I was surrounded by the care and attention of my classmates and teachers. I am happy to remember all my study from the first weeks. We all went to the camp together and this friendship, solidarity and mutual assistance existed throughout the study. I was particularly surprised by the attitude of the teachers towards us, the students.

I came from a country where power distance is high. Such as the teacher is always right, to a country where power distance is three times less such as how discussion with teachers is welcome. Specifically to HAMK University, where there is no distance between teacher and student, but there is a friendship and mutual respect, support and care.
Memorable times at HAMK
At what other University can lessons take place on the train (Amazing Business train) or in another country (studying trips to Kosovo and Croatia). The University gave me not only a great education, but also a variety of additional possibilities. I took up the study of three more languages: Finnish, Spanish and German and the ability to practice these languages directly with my classmates, who are native speakers, made my learning faster and more exciting.
I have a huge respect to HAVO in Valkeakoski and other student organizations in different cities of Finland. They are making our study process so much more fun and these memories are especially vivid now. I also want to express my gratitude to the University for the opportunity to study in another country on an exchange basis for Double Degree. I will miss my home-university HAMK, especially the family atmosphere and care that I was always surrounded by.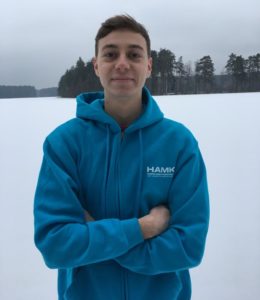 The University allowed me to challenge myself in different areas of business. Such as when we worked on joint projects, we had to do everything. From creating a business plan to finding clients and a venues and most important income. With the great support of our teachers we always succeeded. 
These real projects helped me to understand the essence of a business, my own weaknesses, strengths and interests. Working on the Thesis was so fascinating for me that now I am happy to work in the same field, Digital marketing. I wish for everyone to find themselves and their own interests. I wish everyone fulfillment of unexpected desires, as it happened for me this year!  
Don't be afraid to dream big! Merry Christmas and Happy New Year!