Avdyl Bytyqi is 22 years old and he comes from Kosovo. He studies International Business at Häme University of Applied Sciences in Valkeakoski as a second year student. He did his exchange in Bern University of Applied Sciences.
How did you end up in HAMK?
The first time I heard about HAMK was, when one of my friends got accepted here and later informed me about life in general here in Finland. At that time I couldn't reach the deadline for HAMK, therefore I applied and got accepted to a Vocational School in Porvoo, Finland, but my aim was to transfer my studies at HAMK, which happened six months later.
Why you wanted to have an exchange period? Where you did your exchange?
The first year of my studies at HAMK was a great experience and it gave me the chance to meet people from all parts of the world. At that point I understood the importance of being international in today's globalized world.
So I decided to do an exchange semester at Bern University of Applied Sciences in Switzerland, to broaden my horizons and enable myself to build strong social network with people through our continent.
University life?
Bern UAS is a small University with only 5,000 students. It is predominately a business school but also offers law courses. Most of the Swiss students work part-time, so you see a lot of students dressed up smartly or in suits, which gives the University a more formal feel.
In order to take the course that you want you need to go through a bidding process. This was less complicated than I thought and I was able to attend all the classes I wanted to take. The University does a good job of getting in touch with you about the bidding process and how it works.
The University has amazing gym facilities available to students. Almost any sport you can think of is available and all you have to do is sign up online to attend most of them for a fee of 150 Swiss francs per year. I ended up taking a Monday night volleyball class which was a good way to break up the week and meet some new people.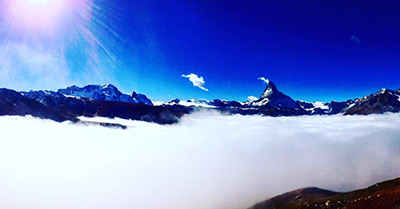 What was the best thing in exchange?
The best thing was to get involved in the buddy system at the University. This is where you are paired up with regular students who will show you around and answer and questions you have. There are also plenty of buddy system events on during the semester such as fondue night, pub crawls, toga parties, ice skating, skiing, hiking, weekend trips to cities and many more. All of these events are organized through the buddy system Facebook page which you are added to once you join the buddy system.
The week before class starts there is an orientation week for exchange students with various organized events which provide a great opportunity to meet other exchange students and make friends for the semester. Another opportunity the University provides is a German language course, which helped me a lot to improve my German.
In the lead up to Christmas, the Christmas markets start to appear and these are a great way to buy some classical Swiss gifts and also try drinking the traditional gluhwein ('hot wine' – a perfect thing to warm you up when it is zero degrees).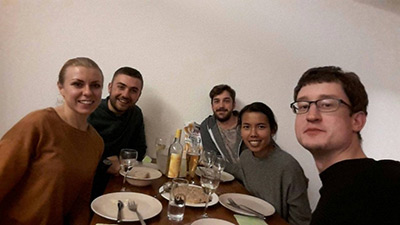 What was the most challenging thing in exchange?
During my time there I took three specialization classes, and the rest was second year business classes. All of these were quite challenging, especially the specialization classes, and probably at a higher level than what is expected at HAMK. The Bern UAS grading scale is from one to six and you need at least a four to pass. In general this university is more formal and has the bureaucratic part which makes it a bit challenging to adopt
How about HAMK, why would you recommend others to come exchange at HAMK?
– There are plenty of reasons why I would recommend others to do an exchange semester at HAMK. First of all Finland's higher education system is widely respected as one of the world's best. Finland boasts from truly stunning natural settings, with its lakes, islands and ski resorts, which can be easily reached from where HAMK is located.
HAMK itself is a very international educative institution and its staff have a reputation for being friendly and open.
How did you manage with accommodation and money issues in exchange?
Most of the exchange students organized their accommodation through the university accommodation office. I was lucky in that I had a friend over there, so he was able to sort me out an apartment through a Bern students' Facebook page (called 'Uni Bern Exchange'). This meant I didn't have to pay any administration fee and ended up living in an apartment close to the center of the city. My rent was about very cheap for the Swiss standards and was 400 CHF (Swiss francs) per month (370 Euro).
Switzerland was overall a very expensive place to live compared to Finland or the other exchange destinations in Europe. This meant I brought most of my food from the supermarkets and did a lot of home cooking in the apartment. It is incredibly expensive to eat out or buy drinks at bars.
During my stay I received financial grants from HAMK and Swiss government. With these grants I could cover my rent and all the other expenses I covered myself. As an average total of costs per month I would say that 1,500 Swiss francs would be enough for a student to survive and enjoy a bit of travelling around Switzerland
Anything else?
Confidence, independence, and becoming who I really am, are the 3 aspects I have noticed myself really grow in! Student exchange has impacted me greatly, as I have become a lot more open to new things and a world bigger than just my comfort zone.
I've found that student exchange has been a life changing experience that has made me realize I can do so much more than I ever thought was possible. I have had a great experience, and I am looking forward to what comes next. More fun filled times, more excitement, and more challenges. BRING IT ON!
Check out more information about HAMK's exchange opportunities from here. The next  application period for HAMK's International Business and instructions for application can be found here.