International Business exchange student Daniel Sypko worked as a trainee for HAMK's Freezing Week event which is an annual international week organized by the School of Entrepreneurship and Business. What is Freezing Week all about and how is it to be involved in organizing this kind of event?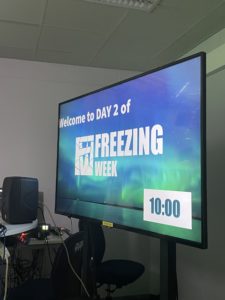 Background
In Februrary, HAMK organized the Freezing Week: an international event with the topic: Sustainable Business Transformation. The event went on for a week. We had several keynote speakers, guest lecturers and a student project. Furthermore, there was a panel discussion and the Freezing week research seminar.
I myself helped organize the event. I was part of the Comms and Marketing team and did various marketing for the event. I also made sure that everything ran smoothly in the background during the event.
It was really interesting for me to work in this completely new work environment here at HAMK and be part of this amazing event. The best part was being at the campus in Hämeenlinna and getting to know all the other teams live and being able to follow and organize the event from there.
Beginning stages
I applied for this position back in September and a few weeks later I already started working for the team. For me, as an exchange student from Germany, this was a completely new experience. The working world in Finland is a completely new and pleasant experience, which I enjoyed very much right from the start. I was especially amazed at the freedom I was given. I was always allowed to decide for myself how to approach the tasks and had no pressure from above.
It was also practical for me that there wasn't so much to do at the beginning, so I was able to settle perfectly into my new working environment. In the beginning we designed the website for the event and started to create some marketing campaigns that we could launch in the months before Freezing Week.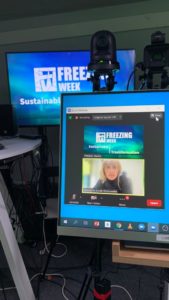 The phase in the months before the event then became very stressful, but in a positive way. There were a lot of tasks and constantly new things to take care of. The biggest task here was to create everything we need for the event. We created slides for the event itself, we gathered all the information to constantly update the programme and we launched the social media campaign to keep people excited about the Freezing Week. It was interesting for me to keep the overview and to coordinate everything so that everything runs smoothly at the event.
Outcome
The event itself was very stressful because there was a lot to do and some unexpected things happened, but it was still great to finally meet all the other people involved in person and to be able to work with everyone on site. A nice change from the Microsoft Teams screen 🙂
The event basically consisted of 2 parts. On Monday and Tuesday we had keynotes and guest lecturers, as well as presentations from some companies that participated in the multidisciplinary student project. On Monday we also had a panel discussion with representatives from different companies. The programme of Monday and Tuesday was open for everyone.
My job was to welcome all the guest speakers and do a technical check with them. I also helped coordinate all the teams with each other so that everyone knew exactly what they had to do and when.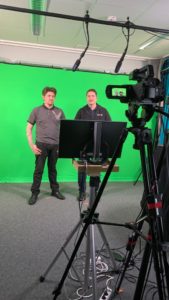 On Wednesday and Thursday the programme of the Freezing Week consisted of the multidisciplinary student project. HAMK students from different degree programmes and also students from HAMK's partner university NHL Stenden University of Applied Sciences, worked together in teams. They had different kind of challenges given by real companies and they worked together to create the best solutions for those cases. On Friday, the best team were chosen by a jury.
In summary, I can say that the Freezing Week was a very exciting and interesting event. I had a lot of fun organizing the whole thing and it's cool that my whole internship ended with such a nice experience.
Writer: Daniel Sypko, Exchange student in International Business Degree Programme