HAMK Library, a principal lecturer Merja Salminen and a service coordinator Niina Mäkinen have initiated a project in which a reading dog is introduced at the Hämeenlinna university centre to enhance the well-being and learning ability of students. Reading aloud to a dog can promote students' wellbeing, improve students' skills in language teaching and contribute to students' ability as a public performer. We met Merja and the reading dog Ada after the reading session on Oct 24th.
What is happening during the reading dog meeting?
The meeting lasts 15 minutes and during that time, the reader sits down on a beanbag chair, reads his or her own notes, course book, a novel etc. to the reading dog aloud. The reading dog is sitting near the reader and listening carefully. The learning experience is multisensory: reader must focus on reading aloud and at the same time thinking the message of the read text and sensing how the dog is really listening every word you say.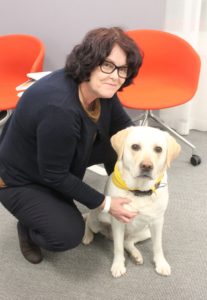 What are the benefits of meeting and reading for a dog?
It's been studied that reading for a dog relieves stress and enhances student's wellbeing and improves their skills in language teaching and in public performances.
Meeting (and petting) the reading dog gives a pause from the school-life and adds nature element to the campus. It clears unhappy thoughts and makes you feel more motivated.
What kind of feedback has these meetings received so far?
The feedback has been very positive. The students are thrilled every time they meet Ada and many have wished Ada to visit other campuses as well.
It might give a bit challenge to focus on reading while the dog listens, but readers get used to the situation fast. For the HAMK library's information service assistant, Asta Ojala, the experience was totally new: "It's different than just reading alone at home, you need to focus on the situation, but it's overall a positive experince."
About the reading dog's job
The reading dogs meetings are usually held in public libraries and they are very popular amongst children who are learning to read.
The reading dogs are verified to be qualitied to join the in the reading sessions in The Finnish Kennel Club. The reading dog needs calm mind and it should not get nervous in any way.
Ada is 7-years old now, and has been a reading dog for a couple of years, before these meetings held for students, Ada has met mostly children in public libraries. Ada is taking one meeting in a week, so it can relax enough after the job. Ada loves doing tricks, ride on a car and getting attention from others – plus, her new hobby is dog-dancing.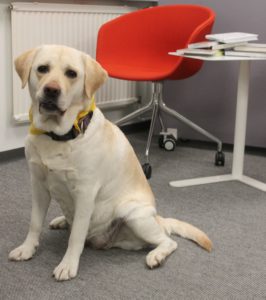 Enrollment for the next reading dog meetings is still open. The meetings are held on:
Nov 21st at 14pm
Dec 12th at 10am
Enrolment and further information:
Anna Mikkonen, Hamk library and information services, anna.mikkonen@hamk.fi