I went to Bali as an exchange student in autumn 2022. I took my 12- and 14-year-old children with me to see the world. It is possible to go to exchange with children, although it requires more advance planning and arrangements than when traveling alone.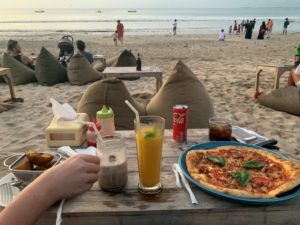 We went to Bali already in the beginning of July to travel around the island, and it turned out to be a good solution. First, Bali is a very beautiful place and there is so much to see and do. For example, you rarely get to slide in a waterfall of see butterflies that are as big as your own hand. Also, adapting to the heat and the culture was not so easy to anyone, and at first the tropical bugs caused moments of terror for children. Even though it was easy to find western food in Bali, they soon missed potatoes. Although culture shock and homesickness were expected, the children could have been better prepared for them in advance. Familiar routines, a home-like environment, and contacts with Finnish friends helped a lot. On the good side, teenagers appreciated cheap Coca Cola and exotic energy drinks, and swimming pools were everywhere.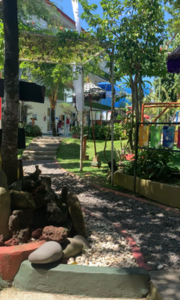 The children's schools in Finland reacted wonderfully to the exchange trip. At first, I planned to home school the children, but luckily a relatively affordable international school was found close to my university. I wouldn't have had enough energy to take care of school affairs for three people. The school system in Bali is different from that in Finland, and everyone had to get used to it. You had to bring your own lunch to school and wear a uniform. The classes were 1,5-2 hours long and were generally very noisy. The most exotic things for the children were the armed guards and barbed wire fences around the school, even though Bali and the school were generally very safe. The children studied the subjects taught in Finland during the exchange when they returned home, because honestly, we were quite lazy and opened the Finnish school books only a few times in Bali.
Most of the time we lived in a small hotel owned by a Balinese-Danish couple. We felt like at home there, and we got a lot of help from them in practical matters. For a few months we lived in a villa with the swimming pool, owned by the same couple. In the villa was also a cat-who-imagined-she-lived-there. Sometimes a few cute rabbits were brought to live in the yard. In Bali, you constantly come across dogs, cats, chickens, and cows that wander around during the day wherever they like and return home at night.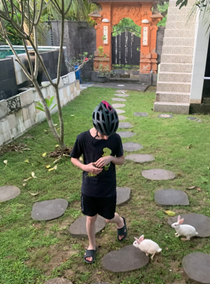 Travel insurance was worth buying, even thou we were fortunate and survived the trip only with broken glasses and a stolen phone. It was easy to get to the doctor if necessary. It was smart move to take half a year's worth of regular medication with you. It was possible to get medicines without a prescription from local pharmacies, but you had to be a little careful with them. For example, painkillers seemed to be quite strong for some reason.
Bali was a lazy mom's paradise. Food could be ordered from the restaurant and delivered by scooter taxi, and hotels and villas had cleaners and gardeners. Dirty clothes were taken to the laundry, and after a few days you got them back clean and ironed.
Handling matters in Bali required patience sometimes, and the schedules weren't always too precise eighter. I had Bali fatigue a few times, because sometimes it felt like I had to clarify unclear things endlessly. Fortunately, those moments were rare, and were part of the process of adapting to a new culture.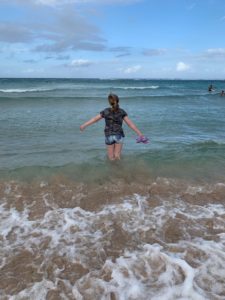 When we came back to Finland, we had surprisingly little reverse culture shock. It was nice to be back, because here things are handled uncomplicatedly and precisely. But the miserable weather was depressing, everything felt boring and the fact that I had to do the housework all by myself again was annoying. And suddenly, after we had lived comfortably in cheap Bali, we couldn't afford anything on a student budget in Finland.
Overall, the exchange in Bali was amazing experience. I am happy I made this once-in-a-lifetime-trip with my children. Both improved their English skills significantly and learned to appreciate Finnish school system. I really miss tropical warmth and beautiful nature, adventures to the new beaches and places and the ready-made breakfast in the hotel!
Mari Toivola
Construction and Civil Engineering Student