HAMK's third year fashion and footwear student's developed collaborative projects for the Finnish Craft & Design Fair (Suomen Kädentaidot -messut) which was held in Tampere last November. Students' common theme for their collections was "Past in the Future" which resembles the increasing popularity of newer methods and solutions used in fashion and footwear. Those methods are changing the world for the better, while at the same time reminding us of where it all started traditionally.
Student team started to work with this project in the autumn semester. The project was intertwined in three courses at the same time. One course was about the project management, the other about the event planning itself and in our major studies we created the products, which where futuristic design concepts for the Finnish Craft & Design Fair.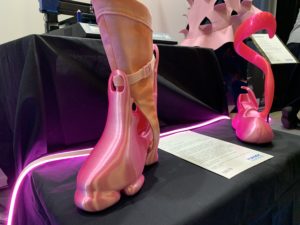 Forming the team
At the beginning the group decided the theme, which was to examine the contrast between the past and the future. Then we divided our group into smaller responsibility areas. All participants where third year students of footwear and fashion design. Samuli Ranta was chosen as the project manager. The rest of the group were divided as following:
Iris Kinni: assistant, Grant application and budget
Dominika Rosova, grant application & budget
Maija Lumiaho: Graphic design
Anna Kotelskaia: Graphic design
Trinity Miller: Social media & marketing
Rebecca Skog: Social media & marketing
Wilma Heimo: Workshop
Elina Lahtela: Workshop
Emilie Rauhala: Visuals of the facilities
Stella Lindvall: Visuals of the facilities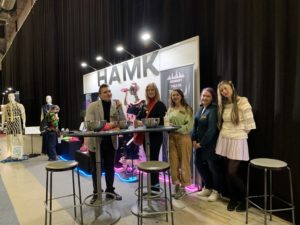 The project proceeded really quickly, and we had a really tight schedule to design products and actually make a plan to showcase all products at the fair. But everyone did their own part, so the project proceeded smoothly.
Hard work paid off with nice encounters at the fair
The most memorable moment on this project was being there at the fair and talking with all the fair visitors. It was great to see that visitors were truly interested in our designs and asking a lot of questions about our products. The most challenging part was to make the budgeting and the grant application. There was also a difficult time period when the course ended but there was still time until the fair. We had to do a lot of work to organize our timetables to fit our current courses as the project was time-consuming.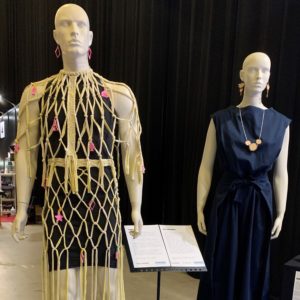 In general, all of the group members learned a lot about event planning and project organizing. Everyone gained new information about their own responsibility areas as well. Overall, we enjoyed the project as a group and there's only minor things that we would have done differently.
Also we are having an exhibition in the D-building at the Hämeenlinna University Center, where the products are showcased together for the last time!