HAMK Gaming Academy introduces collaboration project with HAMK Smart Future Wearables – Gaming Lab.
What is it?
Gaming Lab is a project organized by HAMK Gaming Academy and is located on the Valkeakoski campus in A-building 140 room. It is an excellent opportunity to become acquainted with gaming or to advance skills. It is a place where students can spend their free time playing multiplayer and cooperative strategic thinking games. Multicultural and welcoming community is one of the key points in the Lab. Place where everyone is treated equally and valued.
Gaming Lab has five complete sets of Acer Predator computers in excellent condition. Each computer contains the same number of online games.
For whom is it?
The main target audience of Gaming Lab are HAMK Valkeakoski campus students who are interested in playing, esports or having fun. The lab also welcomes other stakeholders to join the community.
What can you do there?
People come to the Gaming Lab to play and relax. Currently, you can play seven different games: VALORANT, CS:GO, DOTA 2, SQUAD, League of Legends, Apex Legends, and War Thunder.
What is special about this place?
The main unique feature of this project is that it is currently the only one in the entire HAMK. Everyone can use it for free.
How to use this room and it's equipment?
The Gaming Lab's equipment is simple to use. First and important, the room (140) should be reserved through Tuudo or Pakki.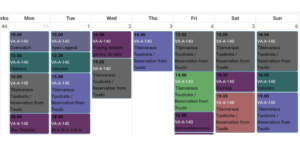 When using computers, visitors should enter the password that is written near the computers. To play games, users should have or create a Steam account. More detailed instructions can be found in the room itself. Since the beginning of Autumn semester Gaming Lab has been in active use.
Are there any restrictions?
HAMK Gaming Lab is located in the room with Future Wearables Lab (HAMK Smart) and this is a collaboration between both projects. There are rules and more detailed instructions on how to use computers in the Lab. The rules are strict at HAMK'S Gaming Academy because the lab's equipment must be handled with care.
Contact information.
If there are any questions, don't hesitate to contact Gaming Academy.
Email: gaming@hamk.fi