Hi! I'm Jussi Saarman a 21-year-old student in HAMK and I live in Hämeenlinna and I've finished the EBM module. I took the Esports Business Management module while I was on my second year of my studies. I had some base knowledge about marketing at the start of the course. Nothing too crazy, but it helped in my opinion, but I don't think previous knowledge is necessary to do well. I had some doubts before the module started, but after the first couple of lectures my doubts went away.
I've been interested in esports ever since I started playing my first competitive game League of Legends at the age of 12 in 2012. The next year I found that there are people who are so good at the game that they play professionally. Then I watched my first professional match ever in 2013, NA LCS Season 3 match TSM vs Cloud9. And if I remember correctly, it might have been the NA LCS finals. And after that I've watched and followed esports in some form or another. It goes in waves and currently I am watching and paying more attention than ever before. But it hasn't only been League. I watched cs:go pretty religiously 2 years ago.
Sports Management
The first assignment we got on the course was to make a learning diary. We used the materials and theories of the course to analyze an esports organization of our own choosing. To me the materials were easy to understand and apply to the organization when making the learning diary.
I usually aren't a big fan of learning diaries. But making this one I actually enjoyed, because I got to talk about my favorite esports organization G2. And when making the learning diary, I found information about the org that otherwise I wouldn't have known.
Esports Projects
The main point of the second part of the module was to manage a project given to us. Our group chose Hämpton Games, a Finnish cs:go event held here in Hämeenlinna. My first thought when we were told about the projects, was that we make a couple of social media posts, make them a social media calendar and some sponsor suggestions. I thought the project was a lot more theoretical. After less than two weeks I realized that we had a considerable amount of input when it comes to everything. It put a lot more pressure on us, at least on me. But still I was positively surprised, because I get to feel like I've done something bigger and tangible.
Our group got merged with the other Hämpton Games group, because we had 4/5 members and the other group had 2/5 members. It was logical that the other group wouldn't work while having less members than us. Our group had two third year International business students, two first year Bachelor of Business Administration students, me who is a second year Bachelor of Business Student and one first year ICT Business and administration student. One of our team members spoke English so that changed our team dynamic a bit. Luckily everyone spoke good English, so it wasn't a problem at all. And the fact we had three different fields of study in our group, we got different aspects and views on things and how to do something. I think that it helped us quite a lot.
Hämpton Games
The event itself got postponed by 4 months because of covid restrictions, but I think, it was a blessing in disguise. Because if the event had been held in January, I think we wouldn't have gotten so much out of it when it comes to our studies and getting to know the event and even each other. We got more time to work on the event. As of writing this it's March and the event is going to be in May. So, we still have time to work on the event.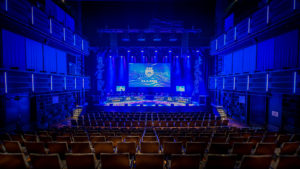 Marketing and Events
The third and the last part of the module was about marketing and events. We were given 5 assignments and all of them could be done at our pace, because we didn't have any timed lectures. We only had voluntary meetings where we could ask for help if somebody needed any. In addition, we were given study materials that were used for 4 assignments that needed some form of materials and/or research. And I also enjoyed this part of course a lot.
Two of the assignments were connected. In the first part we chose three different events and compared them on different aspects. Size, viewers, prize pool, location and so on. And in the second part we chose one of the events, and went more in depth on every aspect of the event like how it was marketed, what kind of an impact it had and how it was setup.
In the third assignment we followed we chose 2-3 operators in the field and followed them on social media and reported on it. For example, how many likes and interactions their posts get, who is their target audience and so on. In the last assignment we had to come up a partnership between two operators and we presented it.
Ending thoughts
If you have any interest in esports, and/or want to know-+ a bit about how things work in the field, I strongly suggest taking this course. Because even if your favorite esports is a bit niche, you can still use it in your assignments, because you aren't forced to learn about any esport title. During the entire module, there weren't many mentions about League of Legends, but I still did almost every single assignment on League, because the study materials can be so easily applied to any title.
Here is a link to HAMK Gaming Academy if you want to find out more: https://www.hamk.fi/gaming/
Here is also a link to my LinkedIn: https://www.linkedin.com/in/jussi-saarman-56125a211