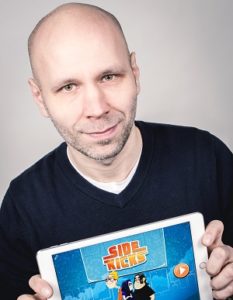 My name is Tommi Saksa and I'm a Senior lecturer in Information Technology degree programme and also in Computer Applications degree programme at HAMK. My know-how is in information technology. Especially programming, web development, user interface designs, user experience design and mobile applications – especially mobile game development, are part of my expertise.
In addition to the actual lecturing I also run a small web development company. My idea is that if I need to learn something new – for example a new web development framework – I try to find a customer that has a case that suits also to my needs. In this way, I feel that my know-how is more accurate.
If you want to study and master something, I dare say that the most important thing is that you are motivated. Also, as I see it, learning by doing is the best way to learn. For this reason, most of our studies in Information Technology degree programme are project based. For example, we build web sites, design user interfaces and mobile apps.
In my free time I spend a lot of time with my family. I also enjoy doing different kind of sports, the most I prefer going to the gym, running or playing floorball. Sunday mornings I would like to start by watching NHL games. And still I get so thrilled when I'm able to program some monstrous video game villains to our mobile games (Check out the latest one: The Sidekicks for iOS and Anroid)!