Scraps of fabric from the sewing studio. That's all Andrea Hurajová needed to create a sustainable and beautiful fashion. "It's not just about making stuff but making something good for the planet as well", she says.
Her design was part of the launching event at HAMK that showcased designs made by students in the Smart and Sustainable Design Programme. The programme focuses on sustainable and conscious designing and that showed in the event. The collection was called Sanguine, which means optimistic or positive, especially in an apparently bad or difficult situation. The fashion world is clearly facing a huge challenge when it comes to sustainability. Students answered to this challenge with their collection and message of hope.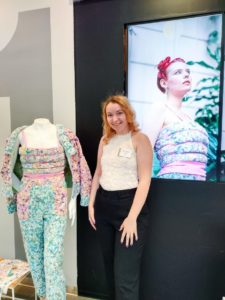 Quilting it together
Andrea's design, named Cloudiness, is an example of the new direction of fashion. It's made completely out of fabric leftovers. Andrea says that in the process of making it she experimented with different techniques of how to re-use these scraps and different kinds of fabric leftovers. The pastel colored and puffy texture of the final design was created from tiny pieces of fabric by using a quilting technique.
"There were many hours of cutting, scrapping fabric into tiny little pieces and sewing many straight lines", Andrea says.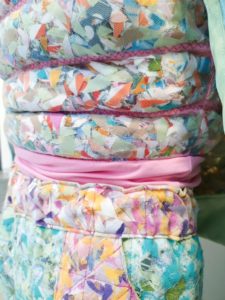 The inspiration came from various different shapes and forms. Andrea wanted to portrait fluffiness and cloudiness, so all the shapes in the design are a bit oversized and puffy.
"I was trying to make something that would be unique, something that was maybe never seen before", she says.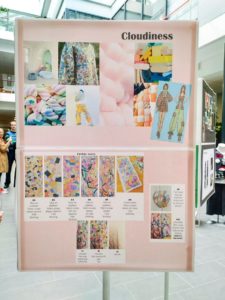 Sustainable and environmentally conscious approach to fashion was an important factor in Andrea's decision to apply to the Smart and Sustainable Design Programme.
"Sustainability is an important theme for me in fashion. It's a very big topic nowadays in the fashion world. People are talking about it and I can see this shift towards a more sustainable design and sustainable practices of making clothes. I'd like to concentrate on this in the future and incorporate it into my own designs", she states.
Check out the video that shows all the amazing designs from the SANGUINE Collection!
Vilma Häti
Marketing Student Assistant and Business student at HAMK