When Christmas Eve was just around the corner, HAMK's International Business was doing its best to prepare for the most beautiful time of the year, also for the busiest time for the biggest project ever at our degree program: International Christmas Market 2017.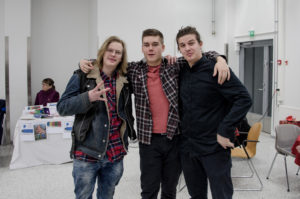 International Christmas Market is IB's largest project upgraded from the Christmas Fair (Joulumessut) but with totally overhauled concept. The market model was reinvented from a business-like fair with entrance fees to a more traditional Christmas Market free for everyone in the city center of Valkeakoski. With such big change in the business model and concept, IB attempted to work and plan on every details to bring back the best possible results.
Turning challenges into great learning experience
"Organizing a project is a simple task, but a complex and hard-work required request." – Cinnamon Luu, Entertainment member, BNI16
The challenge of the event was enormous, especially when the lack of previous experiences is taken in to account. Having nearly 20 subordinates made a very steep learning curve and really showed which aspects of leadership skills that needed improvement. Distributing work and motivating employees is also a great challenge. Thankfully, with dedicated students as organized managers, the mission was fulfilled and project goals were successfully achieved.
"As an educational experience, International Christmas Market was excellent." – said Leevi Vekka, one of our members in the Board of the Director – " I was appointed as the Logistics Director, which is the biggest group in the organization. My first responsibilities as the director were to establish the chain of command to the group. I learned a great amount about management and how it is to supervise other members. I found the position as a Director especially rewarding as we got to draw the bigger guidelines and strategies of the event."
Overcoming the challenges during the project's execution stages provided great experience on problem-solving, innovation and organizational work. Building teamwork and mutual trust between each other also helped the class form better relationships and closer friendships.
10 nationalities, 7 languages and 1 big project family.
What makes HAMK IB different is our diversity and friendly cross-cultural working environment. Engaged in the project were not only second year students from HAMK but also other young and enthusiastic students coming from VAAO (Valkeakosken ammatti – ja aikuisopisto) and exchange students from Germany. The group, totaling around 70 participants, created an organization with clear hierarchy and chain of command. It was their enthusiasm in multicultural teamwork that contributed to the huge success of organizing International Christmas Market this year.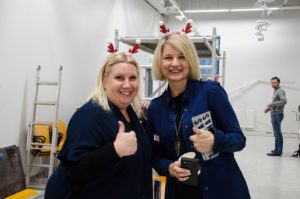 From Santa's little helpers to IB's professional event organizers
Starting from the early August to mid November 2017, HAMK International Business were ready to work on the Christmas Market long before snow beginning to fall. The project took more than 3 months to plan and develop, more than 375 hours to work and countless sweat and tears to make this come true. With the goal to become Santa's little helpers who bring joy and Christmas spirit to everyone in Valkeakoski, we managed to achieve more than what we expected and developed ourselves to next level: cooperative team players and professional event organizers.
Without the International Christmas Market, close friendships wouldn't have been built and professional skills outside classroom wouldn't have been developed. We strongly recommend this project-based learning experience for everyone and for those who have never been a part of it, come and study at HAMK to experience!
Article is written by HAMK's International Business students (BNI16) Leevi Vekka and Cinnamon Luu.
Read more about International Business and apply here.