Four international students who are studying at HAMK as an exchange and double degree students shared their thought about studying in Finland and at HAMK. Why did they choose HAMK and how have they liked it so far? Read their thoughts about studying in Finland and vibes about HAMK!
Who are you and what do you study? Why did you come to HAMK?
Henrik Schill exchange student from Germany studying Business Administration and three other guys studying Business IT: Yves Einfeldt Double Degree student from Switzerland, Dejan Trifunovic Double Degree student from Switzerland and Mattias De Coninck exchange student. They choose HAMK because of a possibility to make a Double Degree abroad and because of improving their English skills. Also all of the interesting projects that have been made in HAMK were one of the key factors of choosing HAMK.

What has been the best thing studying at HAMK?
Studying has been a lot more project oriented and self-studying. Practical oriented self-studying is more intense learning than the traditional going to school to learn theory and learning for exams method. It is nice to learn this way and not learning something by heart. Participating to online courses is also different way to learn because you have to do all by your own. Here you really have to be into it to learn it. In Business IT, students get to work with the latest technology and using the equipment in the projects for example the VR set for developing VR-game.
What was the most challenging thing in exchange?
At least compared to Switzerland the methods are different. In Switzerland, you get all the information beginning of the semester during the first week and here you get it partially in modules but it wasn't that bad when you got used to it.
Why would you recommend others to come exchange at HAMK?
Definitely the practical part but also the modules itself. They are much more time accurate and up to date topics and methods than in our own school. The technology that we are using is new and we can talk to the teachers which project would fit for you. You can use the knowledge that you have learned in practical projects. The buildings and the campus is also nice and homey.  Also the contact with teachers. Specially in Business Administration in start-up course the teacher knows my name and I can just go to him and talk with him about my thoughts and ideas about the project and studies. School gym is nice plus to have that budget price and we are playing futsal as well and going bouldering in Hämeenlinna.
How did you manage with accommodation and money issues in exchange?
Everything was organized from school and it went really well. Our coordinator was helpful. The price is good for the space that you're getting for it. The accommodation costs about 300€ per month.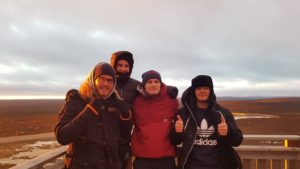 Anything else? Tell some funny story about your exchange for example.
It is very nice that there is a lot of stuff happening. There is every week a party and having a good time. Contact to the tutors is also really nice because they keep you posted about what is happening all the time. The trips to St. Petersburg to Russia was amazing and it's really nice because it is so close to Finland. The Lapland was also amazing and the northern lights, that was super nice!
I had just arrived and it was my first night at my apartment and my flat mate was like "Hey I just made some spaghetti would you like some? And we are going to the party tonight if you want to join?" And I met them in the first night and since then we are buddies! Exchange students are communicating by Whatsapp and we organized barbeque together and stuff like that. We are still about to make trip to Oslo, to Stockholm and to Island. Travelling to northern countries is easier from here. It is nice that Finnish students have overalls and it is unique.