Dea Mulolli belongs to the group of HAMK Alumni Students from Kosovo, where she currently lives and works. She studied International Business at HAMK, majored in International Management. During her studies, she did an Erasmus exchange semester in Italy and after that, double degree studies in Germany.
How did you end up in HAMK/Finland/International Business?
I believe to demonstrate the features of a "Type A" person; I am ambitious, competitive, success-oriented and a hardworking individual. Due to this type of personality that I possess, I have always shown the willingness to deal with new challenges in my academic and professional life.
During my high school years in my home country, I was certain that I was going to start my bachelor studies in medicine. However, towards the graduation lots of things changed in my life and consequently, in my decisions. So I started exploring opportunities to study abroad. As soon as I came across HAMK and its international programmes, something told me this would be the kind of path I would be thrilled to follow and therefore, I decided to listen to my guts and apply.
This idea came as a major surprise to all the people that I was surrounded by, and the instant question would always be: "Isn't Finland going to be way too cold for you?" Nonetheless, after having spoken with few freshmen students who were at that time studying at HAMK, I evaluated what this University had to offer me and I was convinced that it would be the very right choice for my education.
How did you end up in your current work situation? What kind of things your work consists of?
Currently I work for European Union Office in Kosovo, as Press and Information Officer. Given my high interest in the EU matters as well as political and economic developments of Kosovo as a young country, this was the work place I always dreamt of getting and last year it came true.
Through my current position at work, I get to put into practice the set of skills obtained at Management and Marketing classes. I serve manage the procurement process, operational and financial aspect of EU Information and Cultural Centre in Prishtina and Mitrovica North, which intend to bring Kosovo people closer to the EU. On the other hand, I also organise public relations events for the EU Office in Kosovo, contribute in developing communication strategies etc. In general, I very much appreciate my work scope and I am happy to having been trusted with such important tasks at this young age.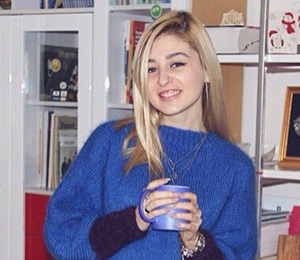 What was the best thing at HAMK? And what was the challenging?
Open-door policy would definitely be the first thing that comes to my mind. I highly appreciated the non-formal yet respectful norms applied at HAMK, and the fact that we addressed to our professors or principals simply through their first names, which is very different from what I was used while getting my education in my home country.
Practical-oriented teaching, easy access to information and help when needed and student-oriented approach were only some of the additional features that characterised HAMK during my studies. Our professors always emphasized the fact that at HAMK each student is a name and not just a number and this very kind of approach makes HAMK as unique as it is.
Of course, there were plenty of things which I found challenging, like getting used with Finnish culture, breaking the ice with our Finnish classmates and building friendships with them. However, I would say that things in general were rather smooth and if one does their own share of work and commitment, there are no challenges that cannot be overcome.
What would you like to say people who consider applying to HAMK International Business? Any tips?
Upon my graduation and even during my studies, there were plenty of students from Kosovo to whom I spoke about HAMK and tried my best to encourage them to apply for International Business. To each and every one of them I explained the conditions and circumstances they would find themselves without having to sugar-coat the truth.
HAMK truly changed my life, for good. It opened so many doors for me in life, it helped me grow up personally and academically and taught me to fight hard and harder for the things I want to achieve in my future. What's most important, HAMK does not produce generations of cookie-cutters, but individuals with goals and clear vision for their lives. Therefore, if you happen to be reading my interview, while still contemplating whether to apply at HAMK or not, take my advice, work on your application, study for the entrance examination and your future self will thank you later!