Iivo Evijärvi, alumni of HAMK's Design degree programme, got a job as a footwear designer for Adidas through an internship. In his opinion, the best things about studying were realizing one's own creativity and doing concrete things. Iivo encourages design students and those who want to become students to be bold and seize opportunities.
Introduce yourself
My name is Iivo Evijärvi and newly graduated footwear designer from Häme University of Applied Sciences. I am currently working in Germany as a junior footwear designer. I work for Adidas Stella McCartney brand.
What have you been studying?
I spent several intervening years doing warehouse work. At the same time, I thought about the future and career choices, and my interest arose in studying footwear design. Throughout my youth, I was very interested in sneaker culture and began to wonder if now would be the time to go to study. Eventually, I decided to apply to HAMK for a degree program of footwear design, and I graduated as bachelor of culture and arts at the end of 2020.
How did you end up with your current job?
It was a long process. My studies were nearing completion and there was still one final internship ahead. I didn't want to rush to an internship because I wanted to find a place where I could get a job after my studies. I applied for several different internships and at the end of 2019 I noticed that the Adidas Spring 2020 internship search was open. Luckily, I was selected for the Adidas Statement unit as a footwear design intern. There I got to work with interesting Adidas exclusive collaboration collections.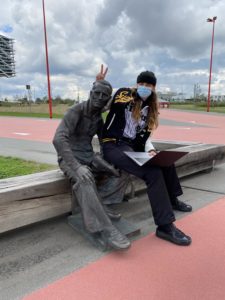 What does your job include?
I am spending my daily life with designing, moodboards and creating concepts. However, my job description is a bit limited due to the current situation with Covid-19 and I have to work from home. There are no necessary resources for concrete and experimental footwear construction and prototyping. That's why I currently only really work on a computer as a designing.
Have your studies at HAMK benefited you in your career?
In the early days of my studies, I got a good start for my own projects and got good international contacts through the school. Which in turn helped to gather important material into my own portfolio. The internships I have completed have also played an important role, through which I gained important work experience. These things have helped me move forward in my career as a footwear designer.
What was the best thing about studying?
At the beginning of my studies, it was great to be able to realize my own creativity and turn the drawn sketches into concrete footwear prototypes. The experimental testing and construction of first footwear provided a wide range of views as a footwear designer and honing one's own creative trend was truly rewarding. It was also nice to follow the development of the early days. However, the best experiences I had during my internship in Paris and Germany.
What are your future goals?
For the future, the plans would be to develop as a footwear designer holistically, in other words, by working on interesting projects and gaining work experience as a footwear designer. The dream is to get to do design work for French fashion houses.
What would you like to say to those who would like to study footwear design? Any tips?
I think a bold attitude to try and explore new, different and emotional designs and concepts are best tips to studying the footwear design. Also, it is worth expanding your expertise in different directions and boldly get involved in different projects. Setting realistic goals and challenging yourself will help you move forward during your studies. It is worth starting to compile your own portfolio at an early stage, as it is useful for monitoring your own development and, for example, finding an internship.