During this past spring multidisciplinary and international student teams created marketing plans for a Finnish design company called Naskali Leather. These International Fashion Branding and Marketing studies are part of the Global Fashion Business module and the aim of this project and students' group works were to give ideas for the company how to expand its operations abroad. The founder of the company, Jyri Naskali, were pleased with the cooperation which gave him fresh ideas and new perspectives. Read his comments further in this blog post.
Global Fashion Business studies gathers students from various degree programmes and also brings together both HAMK's international and Finnish students. This year there were students from International Business, Business Administration and Design degree programmes and also exchange students who joined the International Fashion Branding and Marketing studies.
Expanding perspectives with a little help from HAMK's students
Students' task was to create marketing plans in groups to a Finnish design brand, Naskali Leather. The company is founded by the entrepreneur Jyri Naskali and it is specialized in handcrafted leather accessories which are made of recycled leather. Currently Naskali Leather operates mostly in Finland but now it would be the time to expand operations abroad too. In this matter HAMK's students could help by researching certain target markets and giving ideas how to enter those markets.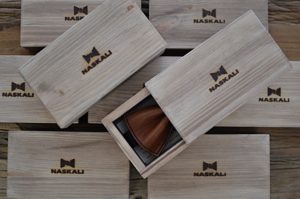 Each student group chose itself a target country in which they wanted to focus on and viewed the opportunities for marketing Naskali's products in those specific markets. They also had to justify why they chose exactly that country. The countries students chose were UK, South Korea, USA, and Spain. Jyri Naskali, the entrepreneur of the company, found these countries interesting and was pleased with the results and the co-operation with the students.
Project from the client's point-of-view, Jyri Naskali: How did the cooperation go?
The collaboration worked fine. Of course, I wasn't in contact with the students that much. With one student team, we arranged a video meeting and discussed their direction and ideas. That was a particularly nice way to work and we noticed how throwing ideas fed everyone. And after all, the marketing plan of this group was definitely one of the best.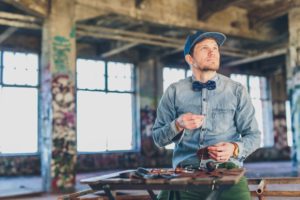 How do you see the results of the project?
The results were very interesting and thought-provoking. Whenever you get a new perspective on your business, it broadens a lot. Direct repair / improvement ideas also came up, which will to be put into practice as soon as possible. It was also interesting to hear how my products would suit different cultures and what different sales / marketing models students suggested. All in all, this project brought great ideas and thoughts to develop things, but also concrete things that can be used directly based on the students' thoughts. 🙂
Photos: Naskali Leather
Read more stories from Global Fashions Business studies: GFB blog