22-year-old Tommi studies Business IT in the Hämeenlinna campus. Last September he traveled to the Netherlands where he spent five months studying at the Hanze University of Applied Sciences. His exchange included lots of travelling and studying and many amazing experiences!
The Hanze University of Applied Sciences is in the city of Groningen which is located in the north-eastern part of the Netherlands. Tommi chose this UAS as his exchange destination because it offered the most relevant studies for him. He considered the exchange possibility already when he studied at the upper secondary school, but back then it wasn't possible for him to go. At HAMK he was first an international tutor which made him confirmed that he wants to go for an exchange.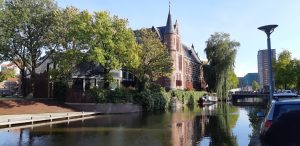 An approachable destination for exchange student
The fact the exchange country was in Europe made things easier since Tommi didn't have to worry about visa or other kind of bureaucracy. Also, Tommi wanted to travel as much as possible during the exchange which made the Netherlands a convenient destination because from there it's easy and inexpensive to travel to the other parts of Europe.
According to Tommi, the campus was really large because it is divided with the Hanze UAS and the university. They have a big library, shops, and a doctor. At Hanze Tommi studied Business IT and Management and the studies included for example agile software development methods such as Lean, Scrum & DevOps. Tommi also studied subjects like IT integration and consultation as well as Dutch language and culture. However, all the studies were in English and local people can speak English well so there was no language barrier.
Networking and travelling in several countries
The exchange fulfilled Tommi's expectations and it was as unique experience as what he had hoped for. He says, he wanted to learn and experience a lot and jump out of his comfort zone to grow as a person. Tommi mentions that the best thing in the exchange was to get to know new people and network with them. Also travelling and learning new things about himself as well as from other cultures were some of the most valuable things exchange offered to him. During the free time he traveled to England, Belgium, Germany, Austria, the Czech Republic, Hungary, Slovakia and Italy.
Tommi would absolutely recommend exchange option to other students! According to him, it is a broadening experience and gives a change to learn completely new sides of yourself. He says, exchange is a perfect way to see the world and international experience is often useful when applying a job as well.
Read about Computer Applications degree programme which is taught in English at the Hämeenlinna University Centre.