Smart and Sustainable Design student Ira Heikkinen and exchange student Magdalena Helass share their thoughts about the fashion film project called CARU Collections. Film showcased students' collections which they made during the winter and spring 2022. The final film was premiered in May 2022. CARU Collections were also on display at the HAMK Design Factory.
What was the fashion video about and when did you start working on it?
We wanted to make a fashion film to showcase the collections we made during the second half of our third year of studies. Originally, we wanted to do a proper fashion show, but because of the uncertainty due to Covid we decided to make a video. To still give everyone the opportunity to see the clothes in real life, we also organised a small launching event where we displayed the collections on mannequins. The planning phase for this project started in January 2022. First, we collected possible event ideas, distributed responsibilities within the team and applied for funding.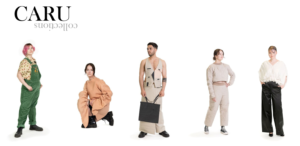 Who were involved in this project?
Organizers of this project were Design students from footwear & fashion design and teacher Nina Kyber. Design factory team Marko Lönnqvist, Jali Närhi, Mikko Uimonen and Markku Mikkonen from HAMK were helping us with planning the video script, filming set up and filming the video. Tilda Romppainen and Jacques Rahimi from our team were editing and making music to the video. We had a professional photographer Tero Ruukki involved also, who was taking photos of our collections.
Roughly the teams were:

Project Manager: Jacques Rahimi
Budget & Sponsors: Miia Latvala
Marketing & Visual Team: Tilda Romppainen, Magdalena Helass, Sirkku-Sisko Kostamo
Models, Hair & Make up: Sara Virtanen & Ira Heikkinen.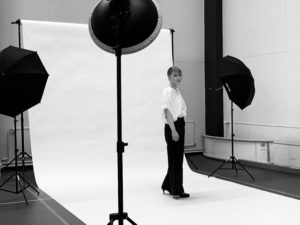 Besides those teams we helped each other where we could and had several other tasks like planning & building the filming location and launching event party. Our team is very small, so eventually we all were helping in each other's teams.
The models featured in the video and photographs are friends of our team members. Hair & make up was done by students from Tavastia Vocational College. They have been cooperating also with previous years fashion show projects with HAMK.
We received funding to this project from Häme Foundation for Professional Higher Education and Research. It was the only funding that we got to this project, so our budget was very limited. With the funding, we bought lunch & snacks for video shoot day and other supplies that we needed like stockings and tape.
We are very thankful to all our team members who were cooperating with us! We couldn't have done this without their help.
How was your schedule?
We started to plan this project in January 2022, and we ended it with launching event on 25.5.2022. First weeks were spent on planning the event. We had different options for what kind of event we would like to organize. After we decided to do a fashion film and a launching party event, it was time to make a budget and apply for grant from sponsors.
During the winter we were also busy with making our own collections. Besides that, we were planning the marketing, planning video script, searching for models, mapped video shoot locations and planning the launching party. In April we opened our Instagram account and started to publish footage about this project. Finally, there was left the filming day, video editing and the launching party event in May.
What was the most memorable moment during the spring?
The most memorable moment was the exhibition/launching day. There were a couple of difficulties we had to deal with during planning the event and making the video. Therefore, it was nice to see everything come together and to realise that all the hard work has been worth it. It was exciting to show our work to everybody and to be able to talk to people about it. We received feedback from our collections, and it was very important for us to hear how the audience sees our collections.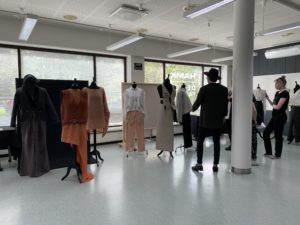 What did you learn when working with the collections and the film?
With our personal collections we learned to manage schedules better and to make more realistic ones. Personal schedule must also include recovery time. The most important things we learnt from this project are how to communicate within a team, how to deal with it when things don't go as planned and how important it is to actively take responsibility to make things happen and to prevent problems. Organizing a project like this takes a lot of time and commitment. It requires good teamwork and communication between team members.
Watch the CARU Collections fashion film