Group of HAMK's third-year Design students participated in cooperation project with Clusius College Alkmaar's florist students from the Netherlands. The high point of the project was the bridal show which was held in Alkmaar in the end of November. HAMK's students designed the bridal gowns and florist student executed the floral decoration for the outfits and for the setting of the show.
What was the project about and how it started?
The final year florist students of Clusius College Alkmaar organize an annual floral show which is the main event of the semester and it introduces the competence of florist students. This time floral show had a bridal theme. HAMK's students' role was making six wedding gowns for the show. Students were encouraged to think boldly and outside of the traditional wedding dresses.
The project started when Menno Groen, a lecturer from Clusius College visited HAMK a couple years earlier. Back then, he got to know HAMK's Design degree programme and the idea of shared bridal project arose. Leena Koivunen, a lecturer from HAMK started to work the idea further. After a year Leena and Tarja Saari, another lecturer from HAMK Design, travelled to Alkmaar and met personnel from Clusius College.
HAMK's lecturers and people from Clusius College decided to run a pilot project with six florist students from Clusius College and six design students from HAMK. Janina Siira, Minna Backman, Emmi Kajovuori, Liisa Luukka, Kristiina Leppikorpi and Anton Wikstedt formed HAMK's project group. For Finnish students this project was a work life project.
A shared workshop at HAMK Design Factory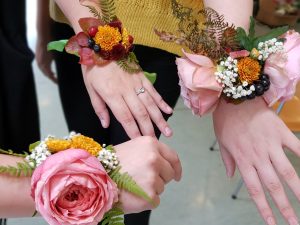 The Dutch students visited HAMK a couple months before the show and students had a chance to design the gowns and the floral decoration together. After the Dutch visitors left, Finnish students worked the designs further and started to make the gowns. They delivered the outfits in advance to the Netherlands via cargo ship and then travelled to Alkmaar for the show which was the big climax of the project.
Read more about the workshop on HAMK Design Factory's blog!
"The project involved a lot of laughter, success, and bread!"
The project taught students how to act as a designer even in the challenging situations and how to work in a best possible way in a situation which you can't affect. International cooperation was a useful experience, yet there were some challenges due to cultural differences.
For HAMK's students it was certainly a memorable project: "One the greatest moments of the project were when the gowns were finally ready and packed for the show. Also, feelings after the show were emotional and even the project was a great experience and the Dutch friends of us treated us warmly, it was still nice to come back home. The experience brought the group members closer to each other and alongside the rush and work, the project involved a lot of laughter, success, and bread (they eat lots of bread in the Netherlands)!"