Opportunity is easier to seize when you have a clear goal and the passion to find your path towards it.
The first thing I sought for when I arrived in Hämeenlinna was a milk tea establishment. I was shocked to see that the owner (my future boss at that time) was serving us herself. I began asking her questions about the shop, which led to us becoming friends. When she chose to develop her business in Goodman shopping mall in Hämeenlinna, she eventually offered me work. After she personally offered me the job, I sent her my CV right away. No interviews needed as she already knew me for 6 months.
"I'm also proud of the Cherry Blossom tree I decorated at her current Bobo tea house."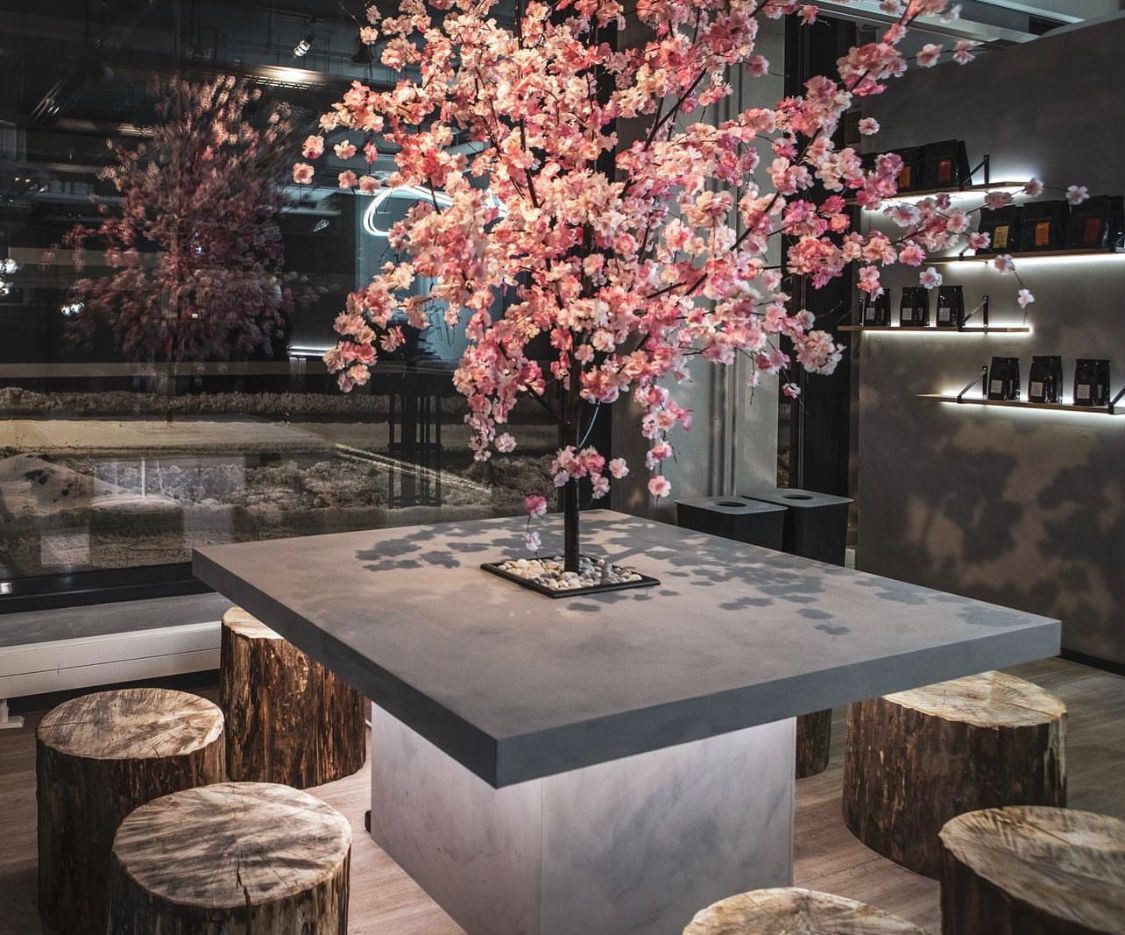 The Cherry Blossom tree in the Bobo tea house Cherry works at.
I work as a part-time "Barista" in Bobo. Bobo is a Coffee and Tea House that operates in the restaurant and bar industry. On average, students are allowed to work part time for maximum 30 hours per week. Therefore, I work for about 30 hours per week during the semesters. However, beginning in the summer, my boss hires me as a permanent staff member to manage her shop.
Focus on developing your skills and competence in your part time job.
I had no experience in the field when I started working at BOBO. But I worked closely with my colleagues. And under my boss´ supervision, we keep learning something new together while following the existing recipes.
Atmosphere in the House changes as the day goes. The morning shift is tranquil except for a few occasions. The elderly enjoys tea and waffles with coffee or pastry to order. However, the afternoon soon becomes busier. Sometimes, even if we're close, there are situations when people still desire to order.
Communication is a skill of art, and language is just one way of communicating.
Customer Service is very important in my field of work. Since I am still not good with Finnish language, I always need to come up with other ways to communicate with my Finnish speaking customers. When it comes to restaurant industry, it is basic that you always keep a smile on your face whenever you face the customers or patrons of the shop. I believe that's how we can build trust and good will with people around us.
Finnish language learning and work opportunities, they grow together.
I can only say that learning the Finnish language is unavoidable. It is more convenient to talk to everyone, especially the elderly. I enjoy talking with them. However, it might be difficult to understand another person at times because not everyone speaks English. So I really need to get serious about studying Finnish this year.
Learning by doing. The more you learn, the more you will have to learn.
I've always been interested in desserts and drinks, so this experience will be incredibly useful in terms of how you make the exact recipes and run the company. I learnt how to brew tea leaves (always follow the directions), create milk teas (which I can already do quickly because I memorized the recipes), but making latte art was a different story (laugh). Because I lack formal schooling, I am still learning how to make a fantastic latte art with everyone and my supervisor. As always, I believe there is room for improvement.
Serving milk tea in a Bobo tea house and as an interior designer? New experience may bring new perspectives.
This experience will also assist me in making interior design and layout more ergonomic, sustainable, and innovative, particularly in commercial environments. One thing I've learnt as a designer over the years is that you must put yourself in the shoes of the intended design to understand and properly traverse it.
To stay in Finland, or not to stay, that is the question.
I am open to any possibility so that I can eventually stay here. I am currently on-leave for 1 year from school to earn my school funds as a Ceramics student. I already had a bachelor's degree in Interior Design and have been in the industry for 10 years, so I want to see how far I can go with this new knowledge and experience. Skills I learn from this part time job are very valuable for any future job I will take as my study proceeds.
Talents inspire talents.
Always follow the 3Ps (Patience, Persistent, Perseverance), that will help you in the long run. There is always an opportunity along the way, there is no easy money without hard work. Anything is possible, you just need to believe.
——————————————— SHARE YOUR WORK STORY! ———————————————
Share your work story on HAMK´s blog! HAMK talent boost encourages foreign students to inspire, encourage and empower one and another through their own work and everyday life experience.
Fill in My first work experience in Finland survey, or contact qingyang.li@hamk.fi for more information.

Cherry, A first-year student from HAMK Smart and Sustainable Design degree programme.
The story is edited by Qingyang Li, Talent Boost Mentor from HAMK International, based on student´s answer to the My First Work Experience in Finland survey.
Cherry is originally from Philippines. I first met her in the student village area near HAMK`s main campus. Immediately I got attracted by her warm and sunshiny personality. We have briefly met on different occasions but were never engaged in too much conversation, until I met her in the Bobo tea house again one day. Cherry then surprised me by saying that she is working part time for the tea house. When we praised how beautiful the cherry tree is, Cherry further surprised us saying that she helped hand-make the tree based on a real branch found from Finnish nature. It is lovely to get to know her real life story a bit more through editing this article, and I wish her all the best in finding her path in Finland.