"I was invited to join HAMK Design Factory at the beginning of August 2022. I wasn't very sure, where I was stepping into, but what a journey I have had so far! That journey hasn't been very long yet, but lots of things have already happened. My total turning point was during International Design Factory Week 2022. That week had its' impacts on HAMK DF, but also me on as a teacher", writes Sanna-Maaria Siintoharju. 
Design Factory
Design Factory (DF) plays an important role between HAMK, students and local companies. DF is combining all degree programs together around the same table when students are innovating new ideas and solutions to local business challenges. In addition, we make all visible via tangible or intangible prototypes. In other words, DF can be seen as a platform, where there is a place for future design thinking, prototyping and networking. Collaboration is much more than just getting new innovations locally, it goes beyond. There are 38 other Design Factories all over the globe, so if the solution hits the wall here at HAMK, we can always ask for help from other Design Factories. This collaboration has been very fruitful so far because we will have guest lectures and projects in the future e. g from NHL Stenden Future Design Factory and Shenkar DF, Tel Aviv Israel. And there is more to come! 
International Design Factory Week 2022, Leeuwarden
The first week of October we had International DF Week at Leeuwarden Netherlands. After two years of online meetings, we finally had the opportunity to meet our network partners all over the world live. The main stage for this incredible week was at Future Design Factory in Leeuwarden, where we were prisoned! Blokhuispoort used to be a prison, but now it's transferred as the home base of Future Design Factory, run by Erik Voigt and Amarins Schuilenburg. We used our time for networking, workshops, learning new tools and most importantly, getting new insights from the first Design Factory Global Network Research Conference. The inspiring day program continued during the evenings, and we truly made new connections. Currently, I'm really looking forward to our next steps with Design Factory Global Network. We had one goal for the week at first place, but actually, we gained much, much more. Side by side there was also a collaboration with RUN EU -partners. 
From the bottom of our hearts, we can say, that there are business trips and business trips. Our trip was very fruitful, so the prognosis for the next meeting is very high. Under the same roof, there were teachers, researchers, managers, directors…But honestly, we didn't know, who was PhD, Master of some Science area, Director of something etc. Because it didn't matter. Titles didn't play this game at all, only the fact that what you are doing and how. Work was not done for institutions or governments, but for students. Our common goal was to offer our students a platform, where they can learn using innovative tools, and future design thinking methods, prototype, network and make new friends without silos.  
IDFW results
Takeaways from IDFW were put immediately into practice at HAMK DF. We have already had Zoom and Teams meetings with our partners and plans for different types of collaboration. We have mapped out our possibilities for networking and designed different international product development projects and the length of them varies. Versatile workshops are coming and currently, we are advertising these awesome projects for our students.  
Something else also happened in Leeuwarden. HAMK DF's foundations were shaking but in the most positive way. Our director Jari Jussila, "The Queen of Research" Juulia Lahdenperä and Senior Lecturer Sanna-Maaria Siintoharju made new plans for HAMK DF from hands-on projects to scientific ones. We also thought about, what kind of resources we need to have for our future. We are ready to meet and greet our principals. It will be interesting to see, how our Design Factory will be modified, what kind of marketing we will have, how everything will be organized, how our projects are meeting our students and how the global network is acting. 
DF Family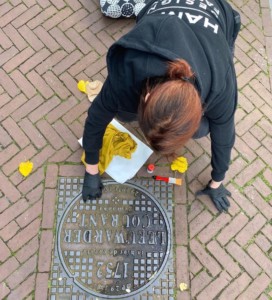 DF people are talking about family. We noticed the same thing also in Leeuwarden: we are a family. When you are allowed to be brave, make mistakes (which are not mistakes) and allowed to be you as a person, those single elements bring something very valuable and worth cherishing. Excellent learning environment. But above all, this is our cup of coffee!  
---
Author
Sanna-Maaria Siintoharju, lecturer and a head of HAMK Design Factory Valkeakoski