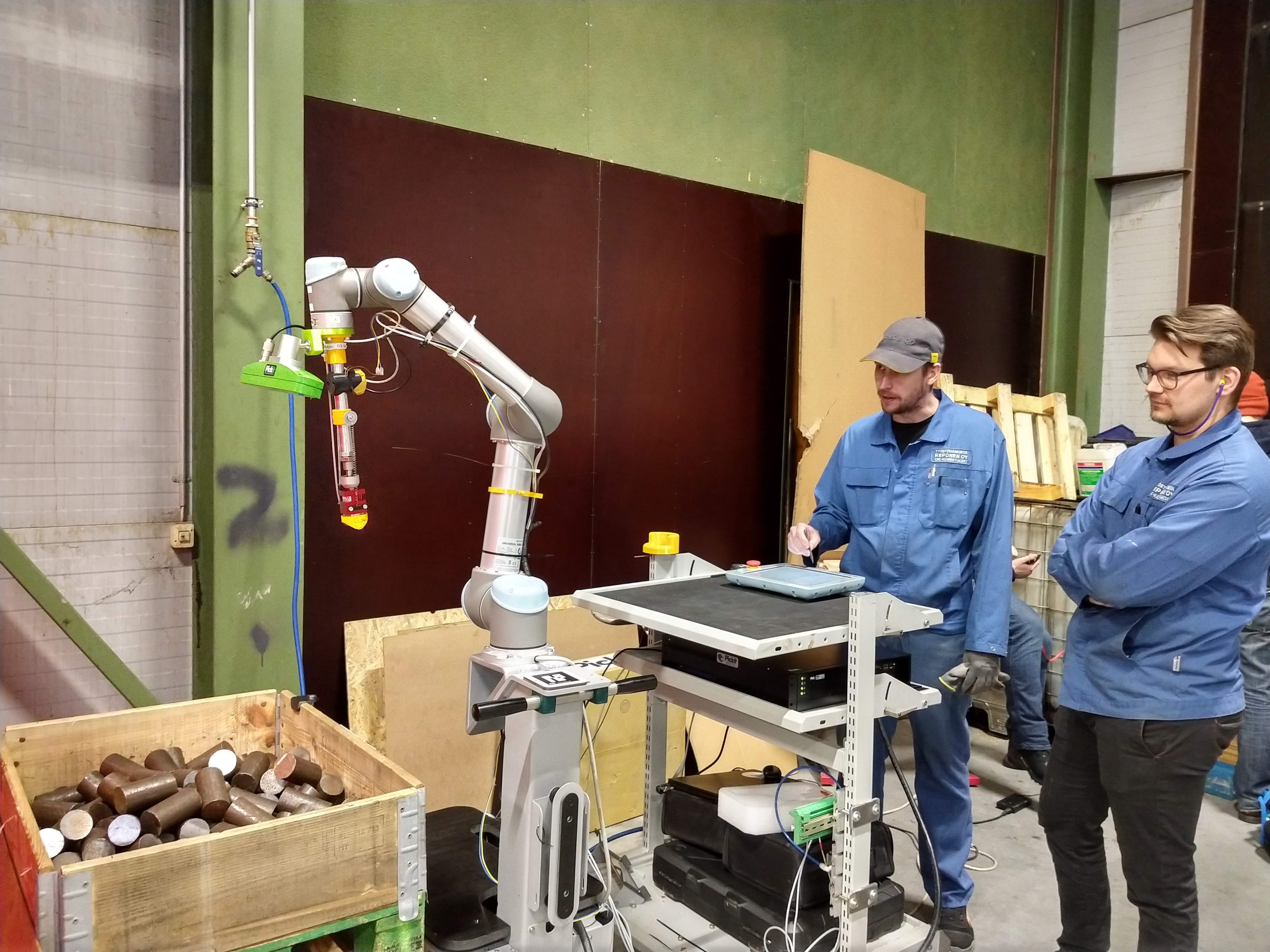 Collaborative robots with abbreviation cobots advertised as milestone for human-robot interaction develop our interest on the technology. As coming from industrial sector, there is always a doubt in the background on the technological hype that cobots received. We wanted to explore, is cobots really a helpful tools for our workers in our workshop? Can we reduce unergonomics tasks from our workshop? How flexible is the cobot technology? Is it easy to program cobots as advertised? We wanted to get insight on the technology before making any future investments in our factory floor.
With all these questions in mind, we were introduced to Y-robo Project from HAMK Tech Research Unit. It was good opportunity for us to explore the cobot technology through research projects. We had several ideas where we thought cobots technology can be utilized from quality inspection, machine-feeding system for low batch size production CNC machines to bin picking and palletizing operation. We have been using traditional huge industrial robots for long period in our factory floor. Out of all the ideas that came from factory observation, we decided to take the tasks of bin picking and palletizing of our raw material. We had seen many videos of bin picking but we did not see this application working in production environment. We wanted to explore both collaborative robots technology and bin picking technology at the same time.
After few months of providing the challenge, we were able to see and work together with both technologies in our own production environment. During the period of testing different solutions, we saw a wide range of experiments and solutions carried out in HAMK Robotics lab in Riihimäki. It was very interesting to see how different tools can be developed in couple of days using 3D printing Technology and directly use the tool in collaborative robot. We knew the bin picking and palletizing was not the easy task to do, nevertheless HAMK Tech Research Unit  came up with practical solution for the challenge.
We carried out one day experiment and training on bin picking and palletizing operation in our factory floor itself. One of our workshop staff along with me participated on the project; we saw the bin picking and palletizing raw material operation up and working. We learned about cobot programming and 3D vision system for bin picking. We got knowledge on the special end effector designed specifically for our application and functionalities of it. It was very interesting for us to be able to program cobot after couple of hours of training. With our factory personnel, we were able to create mock-up program for stacking the already machined part in order using one single cobot and tool. We planned the sequence from bin picking, palletizing, feeding the pallete to our CNC device, waiting for machining operation and stacking the machined part for delivery using one single cobot and tool all by ourselves within one hour. It was great to try how easy and simple UR programming really is. We learned that fenceless collaborative robot provide sense of safety and lack of threat when our workshop staff is working around them. Now, I believe our company will use this kind of application in near future.
It was great opportunity to participate on the project as it opens a new door of opportunities for us. We have seen clear benefits of collaborating with  HAMK and its research units. It helps for the industries like us to observe and experience the latest technological advancement. On behalf of our company, I will like to thank HAMK , HAMK Tech Research Unit employees and funding organization for organizing Y-robo project. We as a company believe that more and more co-operation between education organizations is beneficial for both parties. It has clear benefits in increasing competence of companies and working personnel, which will in turn result in advance development of industries in Käntä-Häme region.

Tuotantoinsinööri   – Production engineer
Työstöhankinta Reponen Oy
Takumäentie 2, 13130, Hämeenlinna
(03) 6161241