Creating a common understanding of how Design Factories work, while allowing room for networking and workshops for pedagogical skill development requires facilitation by likeminded individuals. This environment and facilitation were provided during late May 2023 RUN-EU Superweek, located in Netherlands Leeuwarden NHL Stenden and Future Design Factory. The facilitation was also supported by HAMK Design Factory (DF) staff members based on their expertise. During the week, participants from different universities around the world together with the HAMK DF members gained the opportunity to learn more about pedagogical skills, DF implementation and development, digital accessibility, supporting innovation and prototyping. On my part, this week was more focused on a supportive role for the Superweek facilitation through gathering formal documentation and photographicalweek, guiding its participants between different contents, and coordinating a couple of interviews with individuals whose studies have led them to working for or with the RUN-EU.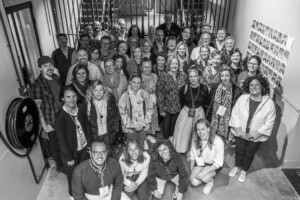 On the side of facilitation, I participated in a few workshops and networking events to better develop my existing understanding and skill sets. During the networking events and lunches, I also provided my experience and knowledge about Design Factory implementation, design thinking processes, prototyping, and constructive communication. Several interesting topics came to light as a result of these events were about "How to sell the value of Design Factories for paying customers?", "Implementation of gamification methods in education.", "Resource management for pedagogical skill development." and "Importance of constructive communication and open-minded behavior.".
A couple of my favorite workshops during the week were the "Watermelon baby" and "Digital Accessibility". The "Watermelon baby" was an introductive experience into quick and dirty challenge solving and prototyping within teams, where participants learned about prototyping with limited number of materials and time. The challenge was how to create a safe carrying method to transport a watermelon as quickly and safely as possible between destinations. Also, there was a heavy emphasis on the watermelon safety and that's why it represented a baby, and you couldn't carry it with your bare hands because that would devalue the meaning of the prototype. These meant that, for example, participants couldn't stick straws through the watermelon and use those straws as carrying handles. The workshop in digital accessibility supported my ongoing master studies, where I've also taken an interest in the topics of how to provide more accessible courses and learning. The workshop focused on the emphasis of how the senses of hearing, seeing and speech affect our understanding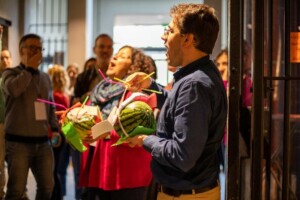 and interaction of certain subjects in certain scenarios. For example, if a blind person is using a text to speech application on their computer to browse through a website, during which the application will inform exactly what can be found from there. Interestingly this application presents quite often how a website is lacking accessibility due to it having multiple tabs within tabs or links, which the which the application will inform before presenting the actual content on the bigger page.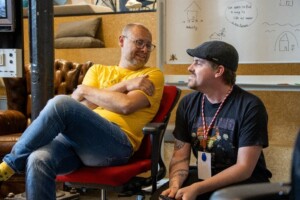 During this week, I was also able to solidify my internship position at NHL Stenden Future Design Factory, which will take place on September 2023. This internship is going to be part of my ongoing master studies, my master thesis topic research, while sharing knowledge from our Design Factory and acquiring knowledge from NHL Stenden Future Design Factory.
---
Author
Markku Mikkonen, Technical Specialist, HAMK Design Factory