Mikko Siirilä is one of the lecturers in HAMK's International Business degree programme. He works at HAMK as a part time teacher in Mathematics related subjects and is one of the key persons in Valkeakoski Campus co-operation between HAMK and Valkeakoski Vocational College.
What are your areas of expertise? What do you teach at HAMK?
I am specialized in Mathematics and Statistics and have been teaching mathematical subjects at HAMK for ten years. In Business Mathematics the focus is on having a Business-related point of view to the key issues in practical Mathematical skills needed in Business life. Also in Business Statistics course implementation there is a practical approach to the theoretical topic.
How did you end up at HAMK? What is your background in work life?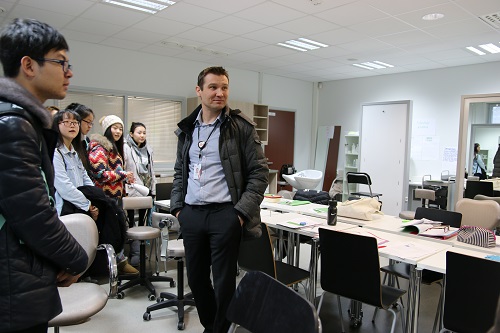 Approximately ten years ago I was asked to become a lecturer in HAMK IB because the legendary Mathematics teacher Martti Holopainen was retiring. Already back then I had a strong personal connection to many HAMK IB teachers relating from the long-lasting co-operation between my full-time-job employer Valkeakoski Vocational College and HAMK IB. I was up to the challenge and have never regretted it, the job at HAMK has always been incredibly positive experience in many ways.
My background in working life includes some IT Business work before the educational career. At the moment my full-time-job is the Head of Business and Commerce Division and the task of the International affairs Coordinator in Valkeakoski Vocational College (VAAO).
What is the best thing in teaching?
The best thing in teaching is to see the development of the students and also notice the benefit they get from their studies later in their life.
What is the best thing at HAMK IB?
The unique possibility to meet people with more or less similar ambitions from so many different countries representing so many different cultures around the world. This background gives enormous chances of networking while studying or even teaching. Beside all this the friendly and relaxed atmosphere at the Campus is already an added value itself.
Free time activity?
Having two jobs and three children decreases efficiently the need to have a lot of personal free time activities. Between obligations the most relaxing way to spend free time is sports in its different forms, especially in those forms where some kind of ball is included.
Any tips to applicants?
Be yourself and bring bravely and open-minded your own personal contribution to the studies.
Check out application periods from our webpages!