The Finnish Academy for Skills Excellence (FASE) was founded in 2008 in Häme University of Applied Sciences. In honor of the anniversary, we open a blog about the theme of vocational excellence.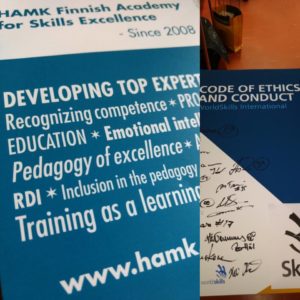 FASE worked for the first few years under the name HAMK Skills Trainers' Academy. The Academy supports vocational institutions and vocational teachers in the development and implementation of the pedagogy of vocational top expertise. The Academy disseminates good practices developed in Skills Competitions for use in the vocational training field. On the other hand, the Academy meets the competence needs of Skills Competition specialists. The Academy works in close cooperation with Skills Network and Vocational Teacher Training. The establishment of the Academy instilled activities that had long been a project activity.
FASE educates, develops, researches and publishes. FASE receives government subsidy from the Ministry of Education and Culture. In addition, FASE receives income from training sales and project activities. FASE serves both domestic and international customers.
At present, EuroSkills2018 Expert Training, and Taitaja 2019 and 2020 Workshop Manager Training are ongoing. In addition, a new round of the Pedagogy of Vocational Top Expertise network training in the Moodle -learning environment is about to start as well as other training events. The Open Badge of the Vocational Excellence Developer is also available.
Welcome to follow FASE's blog! In the blog, we will tell you about the activities of FASE and the results of the development work. We also want to challenge all those who are interested in excellence in vocational skills, professional teacher training and Skills competitions together to develop pedagogy of vocational top expertise.
https://www.worldskills.org/what/research/resources/business-and-economic-resources/